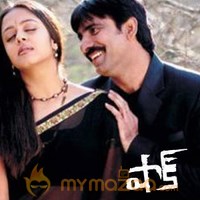 Shock Review
by

MyMazaa.com
---
Ram Gopal Varma's much-hyped Telugu production "Shock" is a huge disappointment. It turns out be nothing more than a rehash of the flop film "Manoharam" with a few mandatory changes.
Normally, filmmakers get inspired only by hits, but director Harish is the exception who chose to remake a rejected plot about two cops framing an innocent man to save their jobs.
Action star Ravi Teja, who regained his stardom with "Bhadra", chose a contrived plot to put himself in trouble again. It is a surprise how he agreed to do this twice-rejected theme.
Jyothika, who proved her calibre in "Chandramukhi", boasted about her role in this thriller. But now it looks as if she was only hyping the film. She even announced that she would remake it in Tamil with Surya, but the latter (her would-be husband) may reject the idea for her own sake.
It is a pity to see the talented Tabu wasted in the clichd role of a journalist.
Character actor Kota Srinivasa Rao impresses as a scheming lawyer with his Telangana dialect while encounter specialist Subbaraju manages to look menacing. Nagendra Babu, Chiranjeevi's brother, and Brahmanandam evoke a few laughs.
The story is about Ravi Teja and Jyothika, a happily married couple working in an advertising agency. They move into a new house as Jyothika is pregnant. On the very first day, Ravi is mistakenly gunned down by two cops who then frame him as a terrorist. They threaten Jyothika for trying to unravel the truth and eventually kill her.
This review won't give away the climax.