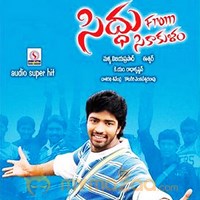 Sidhu from Seekakulam Movie Reviews
Sidhu from Seekakulam Review
by

MyMazaa.com
---
Eswar, who worked as an associate to director EVV Satyanarayana for many films, got a promotion and made his debut as director through 'Siddhu from Sikakulam'. Though the title has Sikakulam, it has nothing to do with the film in any aspect. The director penned a subject with a mixture of faction and love subjects. Moreover, the film has Allari Naresh as hero. Keeping him in mind, the director prepared the script with comedy backdrop. In fact, it is a nice experiment to mix comedy with faction. However, the end result came out in a cinematic presentation and nothing more.
Siddhu (Naresh) native of Srikakulam joins a college in Visakhapatnam. He loses his heart to Sailaja (Manjari), but discloses it to her in a different method. After a couple of encounters, he pours our his heart to her and Sailaja accepts it. Before going on a vacation, Sailaja explains to Siddhu that her father Obul Reddy (Jayaprakash Reddy) was a big factionist and her marriage was settled with Bhuma Reddy's (Vijayaranga Raju) brother. She pleads with Siddhu to take her somewhere and marry her. Being a middle class boy, Siddhu says a firm no to her proposal. He thinks everything practically and tells her that eloping is a bad idea as Obul Reddy would cause harm not only to him but also to his family, which he doesn't want to happen. He doesn't want to take risk in his life. Sailaja with no option left to her agrees for separation but on a condition that Siddhu should come to her marriage and stay with her till the tying of knot by the bridegroom, that too with a smiling face. Siddhu makes his entry as Siddhartha Reddy and stays with her as her classmate in Obul Reddy's residence. From that point the love game reaches its peak. Sailaja tries to lure Siddhu, and the latter tries to avoid her. In the game another girl Nisha (Shraddha Das), cousin of Sailaja joins for some time. After a few incidents, Siddhu also realises that love is greater than everything. At the same time he doesn't want to face the life and death situation. What Siddhu did to earn sympathy from Obul Reddy and make him to ask by himself to marry Sailaja is the climax.
PERFORMANCE:
The character is just a tailor-made role for Naresh and the hero was at his usual best. Besides providing timely comedy, he got a choice to exhibit his performance capabilities through expressions. As a whole he reached the expectations of his fans and general audience. Though a debutant, Manjari, a look-alike of Keerthi Reddy cooperated well with the hero in several scenes. She not only filled the glamour slot, but also appeared romantic in some scenes. Shraddha Das appeared spicy and resorted to a lot of skin show. Comedy by Dharmavarapu Subrahmanyam, Venumadhav, MS Narayana and Kondavalasa Lakshmana Rao is adequate Ahuti Prasad sported a lazy man's role, while Jayaprakash Reddy is routine as a factionist.
TECHNICAL:
There is nothing new to talk about the film as far as the story. It has no twists and is predictable. In the absence of a crisp screenplay and due to the lengthy narration of the events, the audiences faced a little bore. The director failed to establish the love between the hero and heroine properly. There is no need for the second heroine at all. Cinematography by Dasarathi Sivendra is good, while Radhakrishna's music is normal. Choreography is not bad. The climax of the film was abrupt and cinematic, which is beyond any reasoning. Because of poor screenplay, the comedy track also went haywire and gone out of track for several times.
REMARKS:
Once again, Eswar also tried to use mind games as the basic theme of the film. However, the director's storyline based on love, life, middle-class boy's attitude, use of intelligence in convincing the bride's father to get his love married to him €" is good to listen, but he failed to present it on the screen properly. The entire film ran with a commercial formula film without twists. Even many comedy scenes are unnecessary and in one way slowed down the movement of the film. Despite the best efforts of the hero to keep the film on a hit track, the poor narration left the film as an average to below average flick.
Cast: 'Allari' Naresh, Manjari and Sraddha Das, Venumadhav, Chandramohan, Dharmavarapu Subrahmanyam, MS Narayana, Jayaprakash Reddy, LB Sriram, Ahuti Prasad, Vijayaranga Raju, Kondavalasa Lakshmana Rao, Nalla Venu, Harshavardhan, Telangana Sakuntala, Surekhavani, Devisri and others.
CREDITS: Music €" KM Radhakrishnan, Lyrics €" Veturi, Dialogues €" Raju M Rajasimha, Script assistance €" Mohan, Balaram and Mukund Pande, Cinematography €" Dasarathi Sivendra, Editing €" Kotagiri Venkateswara Rao, Art €" DV Satyanarayana, Producer €" Malla Vijaya Prasad, Story, screenplay and direction €" Eswar.
Banner: Wellfare Creations
Released on: August 14, 2008