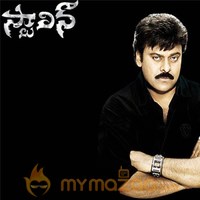 Stalin Review
by

MyMazaa.com
---
Help ever, hurt never is an old adage. Like faith, help too, is its own vindication. Help goes around and comes back in a huge circle ---- and that is its true validation. This weighty and vital social message coupled with typical Chiranjeevi brand of entertainment --- energy-dripping dances, endearing comedy and emotional punches ---- all find true representation in Stalin.
Director Murugadoss, who made us all sit up and take notice through Tagore (story) and Ghajini, once again underlines his talent for making a wholesome and powerful mass masala movie. In Chiranjeevi, he has somebody who can bring to life any kind of idea he (Murugadoss) has. Chiranjeevi, it seems, has been particular about the €˜message€™ aspect --- at his stature and seniority, he had every reason to be. So Murugadoss gets across the idea of helping others being a chain reaction, and he does so without being didactic but only delightfully dramatic. In fact, it is a smart-idea to take this theme of helping others as something akin to a multi-level marketing (MLM). Murugadoss has also prepared an elaborate smorgasbord, sprinkling the spread with liberal doses of dance and intrigue.
Stalin (Chiranjeevi) is a Major in the Indian Army. But he prefers to get back to civilian life as Colonel (Mukhesh Rushi) transfers him to administrative division from the battlefield in the name of disciplinary action.
Stalin is impelled by the urge to serve the country and is fired by his own idealistic notions of discipline, dignity and dedication in regular life too. His equation is simple --- what worked on the battlefield should work in real life too.
After returning from the Army, he stays with his mother (Sarada). He has an elder sister Jhansi (Khushboo) who loves a Punjabi and marries him against their mother's wish. Though Stalin's mother hates her daughter, Stalin loves his sister very much. Stalin helps a physically challenged girl Sumati and a visually challenged girl Swati to write their examinations. Once both the girls have their exams on the same day and Stalin helps Swati, as Sumati€™s uncle promises to help her write the exam. However, her uncle fails to turn up as he meets with an accident and none comes forward to help her write the examination. Humiliated over the incident, she commits suicide. Her death disturbs Stalin as none had lent a helping hand to her.
A determined Stalin draws a chain-link plan to render help. As part of his plan, a person who helps someone should ask the other to help three others. The three who get the help should help three others and repeat the same process. This chain of love and affection, Stalin feels, will stand the society in good stead. Stalin himself puts it in practice by rescuing a small girl child. Later, Stalin however is disappointed that his strategy fails to bear fruit.
Meanwhile, Stalin thrashes a rich boy for hurting a beggar. The spoilt brat, in a fit of retaliation, sends out goons to take out Stalin. However, Stalin amputates the hand one of the goons, who attacks his sister.
The goon is the henchman of an MLA (Pradeep Rawat). The MLA in return tries to attack Stalin, but the latter warns him and his wife (Ravali) not to play games with him. The MLA's wife is none other than the daughter of Home Minister Muddu Krishnaiah (Prakash Raj). That Home Minister also acts tough and brutal with Stalin, but in the process loses his son (Riaz Khan).
When the Chief Minister intervenes to patch up the differences between Muddu Krishnaiah and Stalin, the wily Home Minister hatches a plan to kill the Chief Minister and implicate Stalin. But Stalin escapes with the injured Chief Minister. The Home Minister alerts the entire police department with his political influence and issues shoot at sight orders on Stalin.
While trying to save the Chief Minister, Stalin comes across a gaggle of louts out for his blood at the behest of Muddu Krishnaiah. After dealing with all the baddies, Stalin suffers severe chest pain and gets admitted to hospital with the help of an auto driver (LB Sriram).
Muddu Krishnaiah, who is watching a TV show in which Jhansi speaking to the media, from the hospital where Stalin is admitted, drives his goons to the hospital. However, the Chief Minister, through Jhansi's words, comes to know that the €˜help three people€™ concept is the brainchild of Stalin. He wants to meet Stalin, because he was once helped by a schoolgirl from the jaws of death, because of the same concept. He speaks to the local television channel over phone that he is safe and Stalin is an innocent.
Later, he drives straight to the hospital. On learning that the €˜help three people€™ concept is of Stalin, all those who get inspired with the concept gather at the hospital, making it impossible for the goons to reach Stalin. The goons instead suggest to the Home Minister to surrender to the police.
The doctors operate Stalin and remove the bullet in a major surgical process, though it is quite dangerous and may have lead to Stalin's death. It is the blessings of people that make the impossible surgery possible. Stalin comes to know that his €˜help three people€™ concept worked well and the same theme saved his life in the form of auto driver.
It is a vindication of an ideal.
Chiranjeevi, as ever, is at the top of his art and craft. He continues to mesmerize the audience in general and his fans in particular with his mercurial dance movements and extraordinary fights. The punch dialogues will make his fans dance in the aisles. On the whole, it is a powerful performance that also amplifies his real-life good ideas.
Trisha fills the glamour slot and matches the grace and charm of Chiranjeevi in dance sequences. However, she has not much of a role to perform.
Sunil, Sivareddy play the friends of Chiranjeevi, while Sarada is quite homely as mother.
Khushboo also does justice to her role. Prakash Raj once again has proved his caliber as a crooked politician.
Anushka€™s glamorous song sequence will have the frontbenchers drooling.
Dialogues by Paruchuri brothers are impressive.
Cinematography by Chota K Naidu is excellent. Especially the optical use in "Parare€¦ Paraare..' song is quite impressive and the "I wanna spiderman" with Anushka has also shot well. The lights and shades in all the scenes are quite perfect.
Director Murugadas once again proved that a fine grip on screenplay would do wonders.
Chiranjeevi will go further nearer to the people with the concept and message given through Stalin. This will be the latest hit in the Mega Star's career, especially after being honored with 'Padma Bhushan'.
Cast: Chiranjeevi, Trisha, Prakash Raj, Pradeep Rawat, Mukhesh Rushi, Suman, Sunil, Siva Reddy, LB Sriram, Paruchuri Venkateswara Rao, Khushboo, Sudeepa, Ravali and others.
Credits: Dialogues €" Paruchuri brothers, Camera €" Chota K Naidu, Action €" Kanal Kannan, Presents €" K Venkat Rao, Producer €" K Nagendra Babu, Story, screenplay and direction €" AR Murugadas.
Banner: Anjana Productions