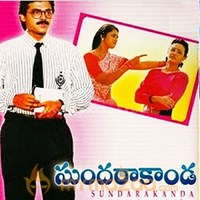 Sundarakanda Movie Reviews
Sundarakanda Review
by

MyMazaa.com
---
'Amma, nanna, O Telugu ammayi' would have been an apt title for this Bapu movie. We have Pinky (Charmme), the ammayi, we have Ram Gopal Varma (Sunil Sharma), the nanna and then we have the amma, played by Prema. The story is set in a village and we have the so-called €˜Bapu bomma€™. Now does that sound enticing? If it does, then here€™s the tailpiece. Pinky, Bapu€™s €˜thoka leni Monkey€™, wrecks havoc in the film that has a wafer-thin plot.
Unfortunately, the bomma that Bapu has created this time fails to either entertain or evoke any other emotion apart from deep apathy. In the title credits, you have graphic effects replacing the usually hand-drawn designs. That makes one hopeful and you are bound to settle down for an interesting film created by the Bapu-Ramana duo. But what you get to watch only makes you wish you hadn€™t been there in the first place.
For starters, the film€™s story is reminiscent of Bapu€™s very own 'Muthyala Muggu'. The rich boy meets poor girl, falls in love and marries her on the spur of the moment €" till here, it is the same theme. But the similarities do not end there. Then there is the rejection by the boy€™s family, separation and the girl bringing up her child as a single parent. The similarities end here. There are no monkey-gods here to help unite the mom and dad. Instead, we have Pinky who takes upon herself to get her parents together. This takes her to her father€™s village and she sets about changing the hearts of her dad€™s family. Her mission €" to make them see their folly and accept their €˜Sita-like€™ daughter-in-law. For this, she has to tackle the village bad man and aspirant politician Kota (Kota Srinivasa Rao) and his aides. It goes without saying that the rest of the movie shows how she plays her pranks to sidetrack Kota and get her grandparents to accept her and her mother.
Little said the better about Bapu€™s making. It is colourful as always, only this time the colours are quite jarring on the eyes. While he tries to reach over to the younger generation through Pinky, he remains struck in a time warp as he tackles the main plot. There are neither the brilliant dialogues as in Pelli Pustakam nor the subdued beauty of the female protagonist as in Muthyala Muggu. Instead we get a Bapu bomma trying too hard to draw attention to herself, losing her identity and charm in the bargain.
The audience is worse hit when the songs come. The lyrics actually put you to sleep and belong to a totally different era.
As for the cast, you only feel bad for Charmme and Allari Naresh. Given that both of them are open to experimentation, they do not deserve to be part of such a film. After 'Mantra', Charmme surely could have had a better release. But as they say in the showbiz, what goes up comes down equally fast. Only for Charmme, it has been a bit too soon. Allari Naresh should be really disappointed by the way his character has finally shaped up. He plays a journo who works alongside the heroine. Just like his character, he too is relegated to playing a supporting role and is hardly the main protagonist as he was made out to be. The film actually belongs to Sunil Sharma and Prema, as it is their story that Bapu chooses to tell.
Even hardcore fans of Charmme and Bapu will find it impossible to sit through this €˜Pinky menace€™. If you still want to go, watch it at your own risk!!
Cast: Charmme, Allari Naresh, Kota Srinivasa Rao, Sunil Sharma, Prema and others
CREDITS:
Producer: K Aparna
Music Director: Vidyasagar
Dialogues: Mullapudi Venkataramana
Direction: Bapu