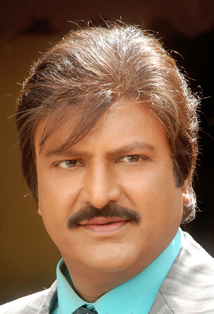 Alias
Collection King,, Dialogue King,, Nataprapoorna
Age
66 years
Height
6'
Occupation
Actor, Producer
Language Worked in
Telugu, Tamil
Spouse

Nirmala Devi Manchu

Children

Lakshmi Prasanna Manchu

,

Vishnu Vardhan Babu Manchu

,

Manoj Kumar Manchu

Birth Place
Modhugulapalem Chittoor District, Andhra Pradesh
Eye Color
Black
Hair Color
Black
Religion
Hinduism
Education
schooling at Yerpedu village and Tirupati. degree in Physical Education in
Marital Status
Married
Parents

Narayanaswamy Naidu Manchu

,

Lakshmamma Manchu

Brothers

Ranganath Chowdary

,

Ramachandra Chowdary

,

Krishna

Sisters

Vijaya

City
Hyderabad
Mohan Babu (born Manchu Bakthavatsalam Naidu) is an actor and producer in Telugu Cinema. He is also an educationist and a former Member of Parliament – Rajya Sabha from Andhra Pradesh. He received the Padma Shri in 2007.
Mohan was born on 19 March 1952 at Modhugulapalem village near the banks of the river Swarnamukhi, and sandwiched between two famous pilgrim centers, Tirupati (abode of Lord Venkateshwara) and Srikalahasti (abode of Lord Vayulingeswara) in Chittoor district of Andhra Pradesh. He has three younger brothers – Ranganath Chowdary, Ramachandra Chowdary and Krishna – and a sister Vijaya. He had his schooling at Yerpedu village and Tirupati. He took his degree in Physical Education in Chennai. He worked as a physical education instructor for a brief while, before making his debut as an actor in the Telugu film industry. Mohan Babu also worked in the film direction department for about half a decade in the early 1970s. He was a class mate of Rajinikanth while they studied at the Madras Film Institute.
Mohan Babu married Vidya Devi. After the death of Vidya Devi, Mohan Babu married his late wife's sister Nirmala Devi. He has one child Lakshmi Manchu with Vidya Devi and two kids (vishnu manchu and Manchu Manoj) with Nirmala Devi.
Mohan Babu is noted for acting in critically acclaimed negative roles in Telugu film industry. He is noted for his clarity in Dialogue and Telugu language Diction. He has acted in more than 550 films, including 216 films in Lead Actor roles. He has two sons Vishnu Manchu and Manoj Manchu who are also film actors. Daughter, Lakshmi Manchu is also an actress and Television anchor
Mohan Babu was nominated to the Rajya Sabha in 1995 and had his tenure (till 2001) and played an active role in Telugu Desam Party.
Mohan Babu established the Sree Vidyanikethan Educational Trust in 1992. It has an International School, Degree College, Engineering College, Pharmacy College, College of Nursing, Management college and College for Post Graduation Studies.