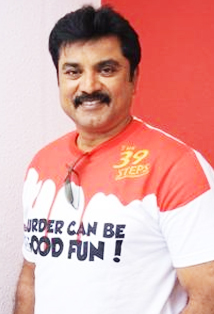 Alias
Sarathkumar Ramanathan
Age
63 years
Height
5'10"
Weight
82.50 Kgs
Occupation
Actor
Language Worked in
Telugu, Tamil, Kannada, Malayalam
Spouse

Chaya

,

Raadhika Sarathkumar

Children

Varalaxmi Sarathkumar

,

Pooja

,

Rahul

,

Rayanne Hardy

Birth Place
Chennai, Tamil Nadu, India
Eye Color
Black
Hair Color
Black
Religion
Hinduism
Education
He did bachelor of Science degree in Mathematics from The Loyola College in
Marital Status
Married
Parents

M. Ramanathan

,

Pushpa Leela

Sisters

Mallika Ramanathan

Favourite Cuisine
South Indian
Favourite Color
White
City
Chennai
He was born on July 14, 1954 to M. Ramanathan and Pushpa Leela in New Delhi and has a sister named Mallika Ramanathan.With a Bachelor of Science degree in Mathematics from The Loyola College in Chennai, Sarathkumar Ramanathan started his career as a journalist before achieving super stardom in the movie industry.
His entry into films was marked by him playing negative roles in Tamil cinema. He later moved on to playing lead roles before working his way up to attain the celebrated star status that he enjoys today. Drawing inspiration from Hollywood greats such as Sylvester Stallone, Bruce Willis, Arnold Schwarzenegger, Julia Roberts, Demi Moore, by the late 90s he is hailed as one of Tamil Nadu's leading heroes. His first big break came with the lead role in the movie 'Suriyan', and from then on he has gone on to receiving many prestigious awards. In 1988 he received his first award for best actor for his role as a villain in the movie 'Pulanvisaranai' and his first award as a lead actor followed six years later in 1994 for the movie 'Nattamai.
The accolades haven't stopped coming in as he played several lead roles in all four of the southern languages, Tamil, Malayalam, Kannada and Telugu. With more than a hundred and thirty films under his belt the once modest yet strong minded journalist has come a long way.
Sarath is also the President of the South Indian Film Artistes' Association. From playing villains to cops to transgenders, Sarathkumar has proven that he can take on almost any role and execute it like a professional, much like the multitasking he does in his real life. Be it coincidence or personal choice, he has played the role of an honest cop several times, on a quest to cleanse society, and that's probably one of the reasons why the politician in him stands out as someone different!
Sarath Kumar is married to Raadhika Sarathkumar who is also a South Indian movie star of great repute. He has four children.His two daughters Varalaxmi Sarathkumar and Pooja were born to his first wife Chaya.A son named Rahul born in 2004 to his second wife Raadhika Sarathkumar and has a step daughter named Rayanne Hardy born to his wife Raadhika from a previous marriage.