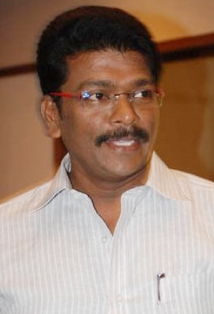 Alias
Radhakrishnan Moorthi
Age
60 years
Height
5'8"
Weight
73.50 Kgs
Occupation
Actor, Lyrics, Dialogue, Story, Screenplay, Director, Producer
Language Worked in
Telugu, Tamil, Malayalam
Spouse

Seetha

Children

Abinaya

,

Keerthana

,

Raaki

Birth Place
Chennai, India
Eye Color
Black
Hair Color
Black
Education
He completing his 10th from the Hindu Senior Secondary School in Triplicane
Marital Status
Divorced
Favourite Cuisine
South Indian
Favourite Color
Black
City
Chennai
Parthiban is a Tamil film actor, director, film producer and writer. Parthiepan is known for having directed critically acclaimed films like Pudhiya Paadhai and Housefull and for his performances in films like Bharathi Kannamma, Vetri Kodi Kattu, Azhagi and Aayirathil Oruvan.
He came from a middle-class family and was born and brought up in the ghettos of Chennai. His father was a clerk in the post and Telegraph department, but his family could never make both ends meet. After completing his 10th from the Hindu Senior Secondary School in Triplicane, He started as a stage artiste who used to perform on stages in Chengalpettu and Vilupuram.
It was getting him nowhere and so he came back to Chennai and made the usual round of going to the producers offices and was finally able to become the assistant of Bhagyaraj. He used to make around Rs 6000 a month by dubbing for various artistes. His first film was Dhavani Kanavukal, where he played the role of a postman. Then came Puthiya Pathai as a full-fledged hero, which was his big ticket to stardom.
He won Tamil Nadu State Best Actor Award for Bharathi Kannamma. Parthipan, the actor, director and producer, loves breaking the conventional rules set by commercial cinema. He has taken roles that other heroes would carefully avoid, directed films that his critics found to be arty.
The actor has remained uncompromising and stuck to his principles in spite of some not-so-memorable roles in the past. After the critically acclaimed and award winning films like Housefull and Azhagi, audience and the trade have acknowledged the maker's undisputed talents. The film Aayirathil Oruvan took him almost close to winning the National Film Award for Best Supporting Actor.