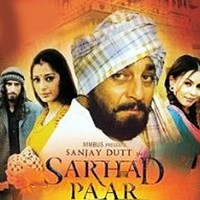 Sarhad Paar Movie Reviews
Sarhad Paar Review
by

MyMazaa.com
---
There was a time till around 3-4 years back when cross border tension was the hottest topic amongst many film makers. This was the time period when SARHAD PAAR, a movie starring Sanjay Dutt, Tabu and Mahima Chaudhary was conceptualized.
Times changed with the relations improving with the neighboring country while overdose of such movies also nullified the demand for this genre. In the meanwhile number of movies like Sarhad Paar were either halted, scrapped or delayed. SARHAD PAAR too suffered from the same fate and has now released without any fanfare. The director at the helm is Raman Kumar who has two duds of varied genres, 'Wah Wah Ramji' and 'Raja Bhaiya', behind them.
The film is about Ranjit Singh [Sanjay Dutt], a brave Sikh soldier from the state of Punjab who is happy with his loving wife Pammi [Tabu] and a doting sister Simran [Mahima Chaudhary]. Life was never meant for him to be same again as he crosses border to reach Pakistan. He goes through physical and mental trauma in the hands of terrorists that were lead by a mercenary called Bhaktavar [Rahul Dev].
On returning home, Ranjit's state is no better as he looses his memory. He receives ongoing treatment in the army hospital but his condition doesn't improve inspite of all the love and affection from Pammi and Simran. Both the women in his life want him to get back to normalcy but his recovery is painfully slow. Shattered, Pammi starts loosing hope but not so for Simran who has known her brother since her childhood. She knows her brother would be back at his feet with a mind that would start functioning yet again with great speed.
It would have been tough for anyone to be in such a condition without a mental support and same held good even for Simran. This is why she was lucky to have Ravi [Chandrachur Singh] in her life. A folk singer by profession, Ravi was her Simran's fiancée and her pillar of support.
Finally Ranjit Singh managed to start solving the jigsaw puzzle of his tormented life and the revenge drama begins.
There is just no excitement when you decide to walk in for SARHAD PAAR. Even though the film has Sanjay Dutt in the lead, you can very well make out even from the dated promos that the lead man just doesn't seem interested in any of the scenes. The damage is done here itself because you are set thinking that if a hero is not at his best in just a few seconds promo then how could one expect anything better in a full length feature.
This is exactly the case as coupled with a dated look of the film; even the actors seem to be playing their part mechanically. The narrative hardly bounds you on while the turn of events too don't really get you feel surprised or elated at any place. In short, the film just doesn't involve you as a viewer at all with a strong sense of deja vu killing whatever little prospects the film had.
While Sanjay Dutt plays his role fine [well, it is hard to imagine him acting badly ever!], Tabu and Mahima Chaudhary play their parts well too. Rahul Dev is nothing better than a typical villain while Chandrachur Singh continues to be lost, both in reel and real life.
Even the production values of the film don't really have much to talk home about with the frames clearly indicating a dated look of the film. The music [Anand Raaj Anand] is fine though a few years back at least a song or two could have caught on well with the audience. Action is decent but only at places.
SARHAD PAAR is certainly not the kind of film that one would want to spend money and watch in theaters. Even on DVD, the film doesn't have much in it for a family to plan their evening. At maximum, the film can be given a watch when it is played on the small screen through satellite beaming. In terms of box office too, the film has zilch chances since a) the film has got a poor release with not many multiplexes showing the film at prime slots and b) the collections of the opening day have been disastrous to say the least. A non-starter!