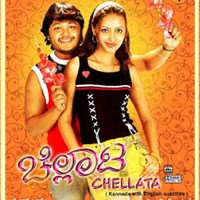 Chellata Review
by

MyMazaa.com
---
Drawing inspiration from a Malayalam film 'Puli Kalyanam' director Sridhar has given a new shape to the film that is convincing because of good star cast and cinematography. Music director Gurukiran although gives two lovely tunes he has brought disgrace to saint Purandaradasa Keerthane Indu Enage Govinda€¦€¦The remix is in bad taste.
Orphan growing with sincerity and hard work Ganesh completes engineering. He is a master of a few works like car driving, applying Mehandi, marketing the crackers etc. He has a fond sister in the family he grows. Rs.5 lakh needed for his sister marriage makes Ganesha to expand his business. As the destiny has something else Ganesha loses the business in a fire accident. Meanwhile his mobile has exchanged with the beautiful Rekha and both exchanging pleasantries and missing at the last minute of meeting keeps the other track of curiosity going. Back to square one Ganesh is immensely liked by Rekha who is stinking rich. Whether her father approves her love and how Ganesh solves quixotic situation facing him in quick span of time director answers.
From paltry roles to comedy time television serial conductor Ganesh has conducted himself very well on the screen. He has the height, right expressions and comedy is of course his forte. He has thrilled audience in action scenes too. Rekha is the right choice. She looks good, very glamorous and has the good screen presence. Devraj as a single handed guardian of Ganesh, Komal, Tennis Krishna have given fine support. Madhumaga role is a pain to watch. Avinash is in his usual grit and get going role.
Sundarnath Survarna captures the beautiful locales very well.
This one you can't miss.
Recommended Reviews
Recent Reviews