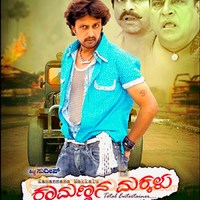 Kamannana Makkalu Movie Reviews
Kamannana Makkalu Review
by

MyMazaa.com
---
Producer cum director Gurudut estimating the demand of Sudeep, Rockline Venkatesh and Doddanna fans in Karnataka has given a right preparation with very lively moments in 'Kamannana Makkalu'. Strongly inspired from Tamil film 'Majaa' (starring Vikram produced by Rockline Venkatesh) this film is a revenge saga. There are many shoddy situations that could have been deleted so that the film would have looked crisp and clean. The dialogues are loud for all the key artists.
Kamanna (Doddanna) has brought up Ramanna (Sudeep) and Kittanna (Rockline Venkatesh) from childhood. All the three are efficient thieves. One fine day they all decide to give up their profession of stealing and settle down in some other place. They are traveling in a lorry that develops mechanical defect in the midst of a forest on a dark night. To their destiny they find a house in the next morning to live. This is the house of Kanaka (Vaibhavi). Her father is facing a difficult situation in front of the village chieftain. The stay of trio in this house gives some relief and courage to the distressed family. The trio - Kamanna and his two sons barge on chieftain and solves the litigation further enrages the village chieftain. The trio decides to stay in this village thereafter doing cultivation. In a fare Ramanna ties the mangalasutra to Gayathri daughter of village chieftain just because he liked her evokes noise. The village chieftain give up his harshness for the sake of his daughter Gayathri and if the audience think everything is OK and it will lead to marriage hall they are mistaken. The director brings in mistaken identity and a villain at this point of time. Siblings Ramanna and Kamanna turn temporary enemies and the villain a relative of Gayathri wants to marry her at any cost. The stage is set for a battle in which 'Kamannana Makkalu' wins.
Here is a right kind of film Sudeep fans are looking for. The dialogue, looks and action of Sudeep cheer up the fans. Rockline Venkatesh the noted producer who had given up acting after a few films in the past matches the role. Doddanna wins in the dialogue delivery and natural acting. Ramesh Bhat is as usual in the supporting role. Vaibhavi has the mesmerizing looks but she has not been used properly in this film. Deepu as counterpart to Sudeep looks good. Sadhu Kokila comedy is bit irritating.
There are only two songs worth hearing. The splendid outdoor location is a treat to the eyes. The wrong Kannada grammar atop the lorry should have been corrected.
This is a fairly good entertainer.