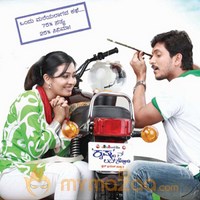 Krishna N Love Story Movie Reviews
Krishna N Love Story Review
by

MyMazaa.com
---
The over confident director Shashank has done everything in excess. There is no fine editor in him. He prolongs the film in the second half and takes time to come to the point is the only irking thing about this film. Other wise the elements are good. The redeeming features are some lovely performances, a few good tunes and excellent cinematography.
The confused state of mind of the heroine could have been pruned to make the film crisp. The dangling situation whether to accept pure love or go behind affluence is the confusion in the mind of lead character Geetha in this film. It appears to discover the acting talent of Radhika Pandit, in some of the scenes, is stitched.
However Shashank in his third film proves that he is brainy but unfortunately he has not used it in right perspective.
Krishna alias Hoge Krishna (Ajay) fond of his bike is a responsible youth until he sees Geetha (Radhika Pandit) the ordinary girl with admirable beauty. Geetha knows her limits well. Her agenda is to complete studies and take care of ailing mother and her brother who is a trouble shooter for the family. With no signs of expectation Krishna supports Geetha in her endeavors. Looking at the sacrifice, Geetha also approves him to be a life partner. The twist starts now. The need of money puts Geetha in pathetic stage. She discards the adjustment life in love marriage. She looks for materialistic benefits after sufferings she has undergone. Inevitably she accepts the proposal of affluent Narendra (Pradeep) that too when her marriage is fixed with Krishna.
Geetha goes missing for a dozen days and in this period she faces turmoil in life that also includes a major accident in which Narendra is killed. Back after interval, audience would find Geetha mentally disturbed. She is not ready to accept the proposal of Krishna because he has too good nature. The psychologist at this stage suggests that Geetha should come open on her past. To give a cool atmosphere and generate what is in the mind of Geetha the humble Krishna takes her for outing. It is at the serene atmosphere Geetha is pounced on by youths for which she does not react. Krishna averts the further danger but Geetha begs to leave her because she is already spoilt.
What happens after such startling revelation is the climax. Director Shashank claims that the film is 75 percent real and 25 percent imagination. 75 percent of the film is good but 25 percent is what indigestive.
This is a film of Radhika Pandit and cameraman Shekar Chandru. Radhika Pandit has shown her exemplary skill and in anger and frustration she meets the range of yesteryear heroines Kalpana and Manjula to some extent. The close up shots without make up is not in good taste for her.
Ajay as a submissive hero has done his job well. The dialogues for him are good. Achyuth is competent enough. Umasri and Chandru are good.
Shekar Chandru's climax, capturing of water falls, the rush of water, mountains plus greenery is impeccable. In the top angle shots Shekar Chandru is extremely good. This film would give him awards.
V Sridhar of 'Mussanje Mathu' fame has worked neatly in his tunes. 'Santheyalli nintha neenu nodu nannane….Hrudayadhve bayasidhi ninnanne' is well composed and captured on screen. 'Priti Hesaru Heli Eduru Nindheya…' is also an impressive song.