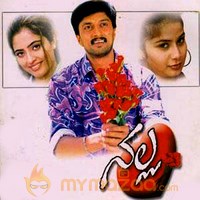 Nalla Review
by

MyMazaa.com
---
"Nalla" is a welcome relief for filmgoers looking for clean films. Lyric-writer Nagendra Prasad has done a commendable job in his first directorial venture with "Nalla". It is to the credit of young hero Sudeep and producer K.C.N. Chandrashekhar to have trusted Prasad's latent talents.
The film, though not a great offering, is made well. All the artistes have given good performances and the technical support has also been of high quality.
Though there are shades of successful Tamil films like "Moondrampirai" and "Thulluvadho Ilamai" in the story, it has been narrated differently.
The story revolves around a do-gooder auto mechanic Pachchi (Sudeep) who accidentally comes across a mentally retarded Preethi (Sangeetha). She has come out of her house without her own knowledge. Pachchi looks after Preethi with great care and even tries to get her some medical treatment. Sangeetha is admitted to a hospital, and Pachchi even sells his own shop to mobilize resources.
Meanwhile, Pachchi gets arrested on some trumped up charges. The police find the real culprit and Pachchi is released. He comes to the hospital only to learn that Preethi has escaped.
Pachchi finds her accidentally in the house of a person who had helped him earlier. Pachchi understands that Preethi is to be married to an NRI. Meanwhile, Preethi comes to know that a person known as Pachchi has helped her and she starts searching for the person without realising that Pachchi has now become the driver of her car. The film will reveal the rest of the story.
Sudeep has given us a wonderful performance, especially in the second half of the film. Sangeetha has also excelled in her roles. Srinath, Chithra Shenoy and others have provided adequate support.
A highlight of the film is the music by Venkat-Narayan. The song "Malage Malage Gubbi Mari" is melodious and well picturised. "Machcha Dav Hodeyodhu" and "Malage Malage" will certainly appeal to the front-benchers. Even the background music is excellent.