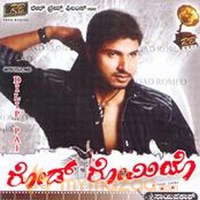 Road Romeo Review
by

MyMazaa.com
---
With a title like 'Road Romeo' the eminent director Saiprakash gives something different for the youths and elders at a time. The main focus he lays on the responsibility before love blossoming and the caring attitude of a son in the house. From a senior director of Kannada cinema these two relevant points are expected. How it is interspersed with the entertainment element is also interesting to watch. There are very good action scenes, performance from lead artist; music and cinematography are all above average.
Dilipa (Dilip Pai) is a Road Romeo. He hails from middle class. His intention is to get a good job according to his education. He wants to enjoy the life in the motorbike his father gifted him. He is a Good Samaritan too. But that locks him in the problem. After initial pranks he falls in love with Anjali (Ashitha). But it is Anjali who brings in responsibility in him. She asks him what is his earning to get married to him. She even slaps Dilipa asking this question in pent up frustration. Dilipa now changes his attitude. He gets hold of a sale boy job and grows up with innovative ideas in his company. He is posted as Manager to Chennai branch. Anjali is still waiting for Dilipa to come forward and marry her. Dilipa is not interested. What is the guarantee that you can be happy with Rs.10000 salary he gets every month he hits back at Anjali. He rejects her outright. That is because Anjali had told him life is more important than love. For that life sufficient money is required. This is what Dilipa reminds Anjali.
So all is not good for lovers you would say. But director Saiprakash has something else in his mind. Anjali's elder sister who has a child has kicked the bucket. Anjali's father wants her to marry the son-in-law so that the child is taken care by Anjali. Anjali agrees to this because this is the only option left for her. But the true love surfaces. Anjali joins the right person in her life.
Dilip Pai has given good performance and in action scenes he is chilling. Especially the one leg fight is very absorbing. In the romance and dialogue delivery he has not failed. He is a man to watch in Kannada filmdom in the forthcoming years. Ashita is bubbly and beautiful. The performance in her is promising. She can occupy very good roles. Avinash in the role of father has come out as a fitting father of a middle class family. He is class in his acting.
Three of the film song is very good. Coming late after two years stay in the cans the songs have not lost the relevance. Coming late but it is latest! Cinematography by BL Babu is impressive.
Go watch this 'Road Romeo'. It is worth your ticket value.
Recommended Reviews
Recent Reviews