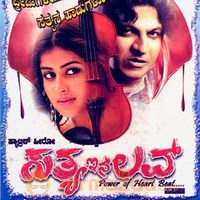 Satya In Love Movie Reviews
Satya In Love Review
by

MyMazaa.com
---
The highly expected big budget Kannada film starring superstar Shivarajkumar and sizzling Genelia is a mediocre film with action feast. There are some melodious tunes, absorbing cinematography and quick screenplay from the debutant director. But the essence is not what expected. The second half dominated with Telugu language speaking characters in this Kannada film is a big drain for Kannada audience. Director Raghav Loki exercise at home in this direction deserved some modification. Are we watching a Telugu film or Kannada film the doubt obviously appears in the mind!
Sathya is a straightforward man with nerves and body of steel (we are not joking €" look at how he fights). He can put down any number of opponents who come to finish him off. This looks pretty outdated. Sathya is modern in his outfits, grandeur in his approach. Such a youngster does not keep a mobile and surprisingly his family members do not have one. This is the mobile zamana. One such would have come to his help and for producer there could have been lot of savings in the first half. Sathya looking at the girl who disturbed him in the Mantralalam temple is sitting before his parents and sister in the train. He does not have any means to express it. From Mantralaya Sathya arrives even before his parents come and that surprises them. Sathya's sister strongly suspects that he had found his lover and then the hunt starts for Veda. When Sathya and his friends find the important clue of Veda that takes Sathya to Curnool. Sathya has so far not met Veda and Veda in turn without knowing it is Sathya had admired the mouth organ instrument tune played by him. With such a scenario Sathya in the hot city dominated by Ranga Reddy finds Veda is his sister. In Curnool the biggest clout is enjoyed by Ranga Reddy and anyone seeing at his sister Veda is a crime. He has a battalion of weapon holding sleuths who can evaporate anyone. For Sathya the two tasks are to meet Veda and convince her that he is in love with her. The nature of Sathya is such that when he decides once he cannot change at any cost. The second task for him is Veda's brother Ranga Reddy who give sleepless nights for him.
What Veda is telling is interesting part of the cinema. She is of the opinion that it is humanity that is very important. Knowing the brutal history of her brothers she had not gone to the extent of loving any boy in her life. She has thus decided humanity is important than love. But what Sathya says is that humanity is nothing but love. After a few encounters with the brothers of Veda in the 'He Man' style Sathya reduce the strength of Ranga Reddy. What he wants from Veda is 'I Love You' in reciprocation of his pure love. Whether that happens? You have to watch this cinema.
Shivarajakumar is superb once again. He is too good in dance and action. His hairstyle is different in this film is OK. The jet girl Genelia is scintillating. She looks really fair and lovely in the song Lovely Lovely Fair and Lovely. Srinath, Vinayaprakash, Sangeetha, Bullet Prakash, Komalkumar have added extra strength to the film.
Four of the seven songs scored by Gurukiran in his 50th film 'Sathya in Love' are melodious, peppy and worth hearing again. M.R.Seenu cinematography gives the perfect color, mood and exotic feeling for the film.