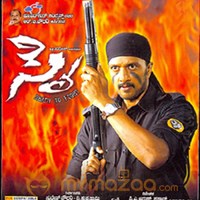 Sye Review
by

MyMazaa.com
---
The recent trend in Kannada film industry is to produce films, which are based on some popular non-Kannada films by rehashing the story and making few changes from the original film. "Sye" which looks like a remake of Tamil film "Dil" starring Vikram which was made later into Telugu and Hindi as "Sriram" and "Dhum" starring Nitin and Vivek Oberoy respectively.
In "Sye", director Arun Prasad has lifted the essence and few important sequences of Tamil film "Dil" and made his own contribution in addition to some badly narrated sequences. Arun Prasad who is originally a Telugu film director has so far directed two disastrous ventures in Kannada, but he has not made any attempts to correct his earlier mistakes and offer a tasteful presentation through his recent film "Sye".
Despite having talented artists like Sudeep, Pashupathi and many proven artists, Arun Prasad makes a mess of his job. He has also failed to extract the best work from technicians also. Guru Kiran who has been providing top class music in every film recently, comes out with a drag this time. It is Arun Prasad who is totally responsible for such a shoddy narration. A good and lively performance from Sudeep is certainly not enough for lifting the film from nadir.
The film's hero Chakri (Sudeep) harbors a strong ambition to become a police officer and even prepares for the test in right earnest. He has a strong family bond and is ably encouraged by all the family members who want him to be a police official.
Chakri falls in love with Kannika who also becomes closer to his family members and friends. The right chord of harmony in Chakri's family is threatened when a highly corrupt and cruel police officer Mosale combats and provokes the hero. Chakri faces his first test when he has to deal with Mosale who wants to give as much trouble to him as possible.
Finally Chakri combats Mosale and even disfigures his face. Mosale wants to take revenge on Chakri and works out plans to see that the hero does not come out successful in the police entrance examinations. How Chakri comes out of the web created by Mosale and how he finally gets the job forms the rest of the story.
The second half of the film is tight, but even then the songs shot in abroad in Syria are just ordinary. The comedy sequences in the film which are just lifted from "Dil" is not a patch of the original. Mandya Ramesh is totally miscast in a comedy role.
Sudeep has strived hard to give a good performance, but he is handicapped by a poor narration of the film. Kannika from Tamil film industry has good looks but does not have the elements to carry a glamour role. Tamil actor Pashupathy is impressive as the villain inspector Mosale. Another impressive performance comes from Television actor Rajesh who acts as Sudeep's friend. Srinath, Sumithra and Avinash are just adequate.