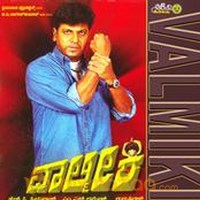 Valmiki Review
by

MyMazaa.com
---
It is time Kannada film makers think of some fresh ideas and dish out products as in recent days many good projects and honest presentations have achieved a better level of success in Box office. But some of the producers and directors will refuse to learn and would rather follow a harmful path of beaten tracks.
The Kannada film audiences who are used to see films from other languages have always chosen better films and have rejected the so called formula films with contempt. Despite examples of some good films like "Aaptha Mithra", "Gauramma", "Akash" and "Varsha" doing well recently, some of our directors still prefer to present their films in worn out styles. Producer Shilpa Srinivas and Dialogue writer turned director M.S.Ramesh have done the same in "Valmiki".
'Valmiki' with leading star Shivaraj Kumar is an old wine in a new bottle. There is nothing new in this movie which tells the same story of a young star whose look alike living in an obscure village is dead. The young man owns up a murder that is not committed by him to save his family prestige. He will be set free by a court after an unknown advocate appears for him in court. Then the hero poses himself as the person who is killed and takes revenge on the bad people who have killed his look alike. There have been hundreds of films made in this genre and this idea has lost its sheen.
Big B's "Shehansha" and Rajnikanth's "Basha" have remained as inspirations to several commercial film directors who have taken cue from the story and narrative elements of these two films. But there should be something new in the narration at least. But in the film "Valmiki" what you see is the repetition of many sequences of Kannada and non Kannada films like successful Telugu films like "Samarasimha Reddy', "Narasimha Naidu", "Simhadri" and "Indra".
The fact is Shivaraj Kumar's earlier film like "Sriram" was also inspired by Telugu hits like "Samarasimha Reddy" and "Indra". M.S.Ramesh directed "Sriram" earlier once again follows the same trend, but this time he has entirely failed to deliver goods. The fact is that such revenge subjects have to be put to celluloid in a bigger canvass, but in the case of "Valmiki" the making style is poor.
M.S.Ramesh has not got his facts right even in the statistical details that form the part of the dialogues of the film. There are 552 Lok Sabha seats in the country says the hero in one of his strong rhetoric, but Ramesh should know that there are only 542 Lok Sabha seats. Now there are 28 Jilla Panchayats which are functioning in the state, but the hero puts it as 26 District Panchayats in his dialogue. Perhaps, the director who is also the dialogue writer wants to prove that he known something more than the other directors, but he should know the facts very well.
Shivaraj Kumar is certainly one of the better artists in the Kannada film industry and it is unfortunate that he gets such products where he has nothing much to do. Even his large section of fans will be disappointed with a film like "Valmiki", despite the fact that the actor has tried to save this film by delivering whatever little he could do. The film's insipid story and bad narration is the major villain of the film. The slow narration in the second half of the film does not inspire the viewers.
Hrishitha Bhatt from Mumbai and Lakshmi Shri have nothing to prove in this film, except their sex appeal. Srinivasa Murthy and Veena Sundar have done their roles adequately. Veteran artists like Shobharaj, Avinash, Rangayana Raghu and Sathyajith have just filled the bill.
"Valmiki" is film you can just keep aside and watch for some highly expected and hyped films that are expected to come in the next few months. The film fails miserably to the audience for even ten to fifteen minutes continuously.