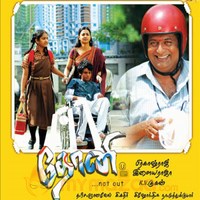 Dhoni Review
by

MyMazaa.com
---
Story:
Subrahmanyam [Prakash Raj] is a government employee, who aims to provide a good education to his children, sacrificing his interests. But son of Subrahmanyam, Karthik [Akash] has passion for cricket and also played a role of blesses cricketer, who doesn't bother about the studies. Here comes a common story of boy and his father struggling for the poor academics. At this juncture enters Nalini [Radhika Apte], a neighbour, who takes care of children. Meanwhile, as forced by the situations and School management Subrahmanyam [Prakash Raj] take influential decision, How did Prakash Raj fight against education system? What is Nalini's past? How Subrahmanyam solve the issue? will make the crux of Dhoni.
Performance:
Prakash Raj has given a wonderful performance as ever and brings out the same from his cast as a director. Akash gave a matured performance with outstanding expressions.
Prabhu Deva's cameo in a song thrilled the audience.
The other veteran actors like Gollapudi Maruthi Rao, Nassar, and Tanikella Bharani gave their best. Radhika Apte was looking good in simple cotton sarees and could be given a length.
Technical Analysis:
Actor turn director and producer Prakash Raj gave good movie, which will touch everyone. Screenplay and dialogues were apt and the director has brought out excellent performances from everyone.
The background scored by maestro Ilayaraja could be better, the slow pace tracks and BGM was totally down. K.V.Guhan's cinematography was apt and editing was handled better by Kishore Te.
Analysis:
Dhoni is a powerful drama that will drag audiences hearts. The first half was absolutely taken good, but the second half was not concluded well. Especially in the concerning issues they have been raised about our pressure cooker education system, scenes where Prakash Raj breaks down in the TV Studio, he meets the Chief Minister with the "How much is 17 x 8?" question have been canned very well.
Some naive and one sided arguments about the flaws in the current educational system, which have been showed in many films before could have been filmed different. The emotional scenes between Prakash Raj and Radhika Apte could have been handled better.
Final Verdict:
Dhoni is a powerful drama with worth valid issues. Do watch Dhoni.