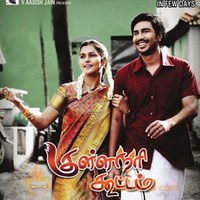 Kullanari Koottam Movie Reviews
Kullanari Koottam Review
by

MyMazaa.com
---
Kullanari Koottam Story:
The story revolves around the hero Vetri (Vishnu) who is an MBA student and roams out without any job and he hails from a middle class family. His father is completely against police service and he doesn't like Vetri or his brother to apply even passport as police officials would visit there house for verification. But the reason behind Vetri's father hating police is not revealed and discussed. A small change in the mobile number during recharge makes Vetri meet Priya (Ramya Nambeesan). They start meeting very often and this turns into love.
Interesting twist comes here in the form of Priya's father who is a military man. He decides his daughter to get married to a person who is only from military or from police force. As the film progresses Vetri meets a set of strangers who finally turns as his best buddies. All his friends stand in support for him to achieve his love. How he achieves his love forms the rest of the story.
Performances:
Vishnu as a middle class has performed well, but he still needs to improve his acting skills.
Remyaa Nambeesan is okay as Vishnu's love interest and also suited the best like a typical middle class girl. She can even perform better by putting in little bit more effort.
M.Soori, Appukutty, Sundar, A.Ramesh Pandian, Iyappan have performed well on the limits of their roles.
Director Sribalaji could have taken much more care in making the film as everything seems to be predictable in every scene.
Cinematography by Laxman is okay while editing by Kasivishvanathan could have been better.
Music by Selvaganesh is okay but can't make any impression as songs in the first half are smooth but in the second half they are forced and are seriously a misfit.
The first half of the film is passable with fun filled love story but the second half lacks clear narration and you will surely deviate from the film.
On the whole, Kullanari Koottam is a very old-fashioned love story and fails to appeal the audiences.
Quick Take: Better watch it on small screens as nothing impresses!