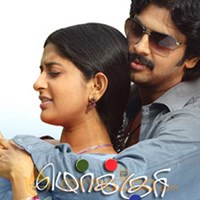 Mercury Pookal Movie Reviews
Mercury Pookal Review
by

MyMazaa.com
---
Success is all about right combinations and partnerships. Srikanth and director Stanley have a nice understanding. And that shows in Mercury Pookal, a movie about the travails of a husband and wife who don't see eye to eye with each other.
Credit to Stanley for giving a movie that is certainly away from the mass commercial films where bloodshed and 'kuthu' songs are the order of the day.
Stanley, who returns to wield the megaphone after a dismal show in Pudukottailirundhu Saravanan, has touched up on campus life and the family sentiments in Mercury Pookal. But one wonders what is the significance of the title.
Srikanth seems to have given his heart out in the movie.
The movie in a nutshell is all about Karthik (Srikanth) pursuing his MCA. A happy-go-lucky youngster who is forced to marry against his wishes Anbu Selvi (Meera Jasmine) by his family. She too is against the marriage. They decide to split after some time.
Slowly, and inevitably they fall in love with each other. Meanwhile, Karthik passes out in flying colours. A turn of events and misunderstanding make Anbu Selvi leave her in-laws place to return to her native with her father. This results in a rift between the two families. The rest is about how Karthik convinces both the families and finally begins to lead a fresh and new life with Anbu Selvi.
Srikanth seems to have done a lot of hard work in terms of preparing himself for the role. Certainly a good performance compared to his last Bambharakannaley. He seems to have reduced his weight and also got right emotions. Equally impressive has been Meera Jasmine. An extension of her role in Sandai Kozhi, which she does with aplomb. At a few places, she even dares to ooze glamour.
Samiksha appears for a hot number and in a couple of scenes. But is a forgetful outing for her, who stole the show in Arindhum Ariyamalum.
However it is Delhi Ganesh playing Srikanth's father and Pithamagan fame Mahadevan, playing Meera's father who walk away with all the kudos. Throwing out natural emotion, they seem to have got under the skin of their character. The rest of the cast include Karunas, Sneha Nambiar and S N Lakshmi.
Unfortunately Karthik Raja's tunes fail to impress.
But Stanley needs a pat in the back for thinking out of the box. Unfortunately towards the second-half needless stunt sequences and couple of songs certainly stems the flow of the brisk screenplay.