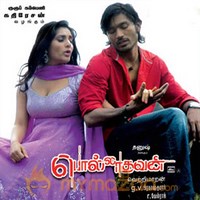 Pollaadhavan Movie Reviews
Pollaadhavan Review
by

MyMazaa.com
---
Very rarely we come across realistic portrayals in Tamil cinema. Some filmmakers do deal with various shades of life but more often than not they indulge in diluting the reality in their pursuit to ensure commercial success. Some directors, however, achieved the rare combination of undiluted reality meeting with commercial success. Debutant director Vettrimaran€™s €˜Polladhavan€™ has all potential to become one such attempt.
The movie opens with a gruesome fight involving Dhanush. The movie revolves around a clash between a person belonging to mafia and an innocent lower middle class boy. The narrative moves on in a non linier manner with the two narrating the story from their respective angles. No, please don€™t get it wrong. It is not Akira Kurosawa€™s Roshoman like narrative where in you get different perceptions on a single event. In €˜Polladhavan€™, the narration is shared by two characters.
Prabhu (Dhanush) who has just now brutally attacked three thugs with a sword comes out of the building and rests his wounded body on his beloved bike. He is now heading towards meeting his praise catch that is Ravi (Danial Balaji), the younger brother of all powerful mafia leader of North Chennai Selvam (Kishor Kumar). He recalls, for a moment, what that bike has brought to him before moving ahead for his hunt.
The flash back shows the happy-go-lucky boy longing for a Pulsar bike. It goes to show the life in a North Chennai street where life is quite difference from that of South Chennai. The boys are playing carom board on the street. Prabhu is sharing the pain of his failure to get what he loves most - a bike and a girl.
The narration shows the status of Prabhu€™s family. The father is the breadwinner of the lower middle class family and the boy, a jobless graduate, is roaming around without responsibility. When caught red-handed for stealing pittance from his father for booze with his friends, Dhanush questions his father€™s responsibility towards his upbringing.
The father feels humiliated and reacts sharply by arranging 70,000 rupees through his hard earned savings. He gives the money to his son and asks him to do something on his own.
The boy immediately gets one of wishes fulfilled. He gets a bike. His family is stunned. But Prabhu is determined to get a job, and fortunately he gets one with the help of his bike. He joins as a loan officer in a bank.
His other passion €" to woo a girl (Divya Spandana) he meets in the bus stand for more than two years €" too gets fulfilled. Prabhu is the happiest person on the earth. He has got a bike, got a girlfriend, and a decent job.
Everything gets terribly disturbed when everything seems to be well. There is another world beneath the surface. There is a mafia gang that deals with drug trafficking and various other anti social activities. Selvam is the leader of the all powerful gang.
The gang has its own complications. The younger brother Ravi of the leader is not happy with the way he is treated. He is full of jealous and anger on a gangster named €˜Out€™ (Bhavan), who is the trusted lieutenant of Selvam. The leader is not supporting his brother doubting his talent. Ravi€™s grudge against his brother and out grows stronger day by day.
Prabhu has a tryst with underworld when his bike gets stolen in a spot where a brutal murder takes place. Dhanush is shattered. He wants his bike back at any cost. Unfortunately, he gets to lock horns with the underworld criminals in his pursuit to find his bike. He gets into dangerous zone but his blind passion towards his bike pushes him forward. This put his and his family€™s life in danger. His love is in danger. The inner conflict within the underworld makes his condition worse. He is in for trouble. Big trouble indeed.
Does he get back his bike and love? Could he save is family from the brutal gang?
Director Vettrimaran has come out with an engrossing and realistic experience on celluloid. Making films based on the lives of underworld is not new but making it with amazing reality is. Though the movie resembles Selvaraghavan€™s €˜Puduppettai€™, it maintains its individuality by sticking to a well crafted script and stylish execution.
Director and his team have done their home work neatly. They have captured the dialects, mannerisms, and life style of the underworld mafia group with precision. The film has also unearthed some hitherto unexplored areas like bike theft network. He has also illustrated the functions of a modern banking network well.
The characterization too is worth mentioning. Especially the character of Selvam. The nuances of father-son relationship too have been portrayed well. Well done Vettrimaran!
R. Velraj, the cameraman, deserves special mention. He has worked wonders in capturing the gruesome reality of the underworld. The lighting in various time spaces is wonderful. The picturisation of climax fight is outstanding.
As far as the script is concerned, the compactness is marred by two songs. One is the marriage song and another one is the item song. The love track too is weak.
Portraying an innocent, turning into a warrior is a cakewalk for Dhanush. He has done it in the past and does it here with amazing ease. He has credibly depicted the transformation within the character.
Daniel Balaji, Bhavan, and Kishor Kumar have brought the underworld with all its colors and shades with astonishing perfection. They all have lived up to the expectations of the director and have added credibility to the reality f the movie.
Though Divya doesn€™t get any scope to act, she looks pretty and adds glamour to the fare. Her pleasant looks serve as balancing factor to the otherwise gruesome movie.
Karunas has rendered a commendable performance as an auto rickshaw driver, who helps Dhanush in his endeavors. His dialogue delivery and expressions are amazing. Santhanam, as usual, plays the friend of the hero and gives comical relief.
Murali and Bhanupriya as Dhanush€™s parents have done their parts well. They together flawlessly portray a lower middle class family.
Young music director G.V. Prakash has done wonders. The songs, which are already rocking, are well picturised. The remix version of €˜Engeyum Eppothum€™ stands out. One wonders how SPB has maintained the sweetness of his voice for so many years. Yogi B, the sensational Malaysian singer is a revelation. €˜Minnalgaley€™ sung by Karthik and Bombay Jayashree is a soothing melody. The background score adds value to the entire proceedings.
The bottomline: €˜Polladavan€™ is a clear winner with its reality, style, and performances. Though the violence, in some places, does make it a gruesome experience, the brutality reflected in the narrative has been justified by the script, as it attempts to show the life of ruthless underworld. Here the rules are different and so is the reality. The A certified film is strongly recommended for those who have stomach to digest some hard reality and gore violence. After all, we have seen more violence on some U certified movies as well.