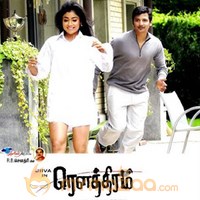 Rowthiram Review
by

MyMazaa.com
---
Rowthiram Story:
Rowthiram opens 20 years back from present time. Shiva (Jeeva) is an upright and honest man who is brought up under the guidance of his grandfather (Prakashraj) in a distant village. His grandfather teaches him Kalari and tells him to fight whenever he comes across injustice in the society.
Here comes the cut to present situation.
Shiva has a happy family which consists of honest principled father (Jayaprakash), loving mother (Lakshmi), a funny brother (Srinath) and a sister who going to enter wed-lock with an IT professional (Sathyan). Shiva tries to enter government sector and makes his attempts in order to get a government job. Meanwhile Priya (Shriya) a law student lodges a complaint to the Principal on her college mate who is also a rowdy as he teases her friend. Priya witnesses Shiva fighting with that same rowdy college mate and his gang in a different issue and falls for Shiva's attitude. In this regard the college rowdy waits to take a revenge on Shiva by approaching a powerful goon Gowri who is currently behind the bars.
On the other hand Shiva beats all his punches on Gowri in another issue and so Gowri and the other baddies are in search of Shiva in seeking revenge on him.
How does Shiva solve his issues and win over the baddies forms the crux of the film.
Performances:
Jeeva's characterization is completely different from KO and he looked as an angry young man in the film. He has brought anger, agony in his eyes and has gone under the skin of the character. He gave right emotions and Gokul's selection should be appreciated roping in Jeeva. He has larger than life role and undoubtedly he excelled.
Shriya Saran looked cute and also looked glamorous. She should be commended for giving a good performance as she has a meaty role to perform. The actress is also good in romantic and love scenes.
Jayaprakash as Jeeva's father and Prakashraj as Jeeva's grandfather are amazing and have given their best in their respective roles.
Bollywood ace choreographer, Ganesh Acharya has done his part well and interestingly a peppy item number done by Ganesh Acharya is appreciative.
Babu Antony, Chaitanya Krishna, Preeti Jhangiani, Satya Bhabha are satisfactory.
Technical Analysis:
Rowthiram doesn't look like a first-timer's work when it comes to direction but the script of the film could have been better. In fact Gokul has come up with a film that deals with societal activities along with love, romance and action. Cinematography by N. Shanmugasundaram is top-rate as he maintained the uniformity through out the film. Three cheers to him!!! His ground-breaking positioning of camera angles and usage of dark yellow tones at certain places is awesome. Music by Prakash Nikki is just okay and nothing to boast off. Editing could have been much better by easily trimming off the dragging bits in the movie.
Analysis:
Gokul has come out with a predictable screenplay which is the major drawback of the film. Rowthiram script is outdated and the predictability takes away the interest in engaging the audiences to the screens. The run time of the film is (2 hours 45 mints) becomes another minus with loads of dragging moments. The film lacks uniqueness and freshness and moreover the climax of the film is not convincing with a missing logic. Rowthiram at parts reminds us Kamal Haasan's 80s hit film 'Satya' and director Seeman's 'Thambi'.