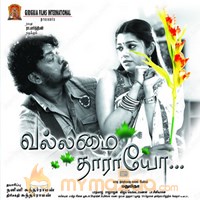 Vallamai Thaaraayo Movie Reviews
Vallamai Thaaraayo Review
by

MyMazaa.com
---
€˜Vallamai Tharayo€™ is a poetic title. So is the attempt by debutant director Madhumitha with imageries and metaphorical representations. She has come out with a film that is set on family-values and a unique bondage shared by a couple.
The movie reminds one of Mouna Ragam. The Mohan - Revathi episode from the film seems to have inspired Madhumitha. But she has carefully laced her script with powerful dialogues and quick turn of events.
Madhumitha deserves credit for breaking away from the commercial format of film-making. However the characters lack depth and narration is very slow reminding one of the soap shows on Tamil satellite channels.
Anand (Parthiban) and Nandita (Chaya Singh) are newly married. But Nandita, who is unable to forget her aunt's son whom she is in love with, wants to estrange from Anand. Nandita manages to obtain divorce and starts to lead an independent life. Unable to forget Nandita, Anand sets out on a mission to convince her and start life afresh.
It is a typical Parthiban. He utters one-liners which are witty. Tailor-made for the character, he shoulders a major burden of the film. Comedy comes comfortably for the actor-director.
Chaya Singh, who is identified with the peppy number Manmadharasa, has really taken off to the next level in terms of her acting. She has emoted very well in the film. Madhumitha has extracted the best out of the actress and Chaya Singh on her part has not let down her director.
Anandhraj as Chaya Singh's father fits the bill well. Srikanth plays a cameo. Music director Bharadwaj has comes up with a couple of melodies. However his background score fail to provide the right fillip to the script.
Dialogue is an impact-making aspect of the film. They are sharp and have in-depth meaning.
On the whole, the movie has have missed out some tricks on the enthralling part, but Madhumitha's sincere approach and hard work deserve a pat.