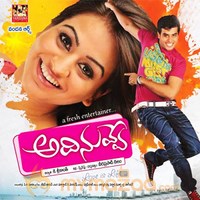 Adhi Nuvve Review
by

MyMazaa.com
---
There are a few directors who try to prove themselves with hard work. Some others just want to turn a director once they get a chance but they are not so hard workers to prove themselves. When a director wants to prove himself, he should work on a good script that had never appeared on the screen earlier and should have an original thought.
Veeraprasad Neelam appeared to have got a chance by luck and came up with a lacklustre subject which had already been presented by many directors earlier and it was a beaten track. While choosing such old subject, the director should have run the story in a novel way, which was completely missing in 'Adhi Nuvve'.
Mohan Rao (Viswanath Kasi) is a government employee. He works hard by doing part-time jobs such as share broking, marketing and others to earn good money to educate his son well and he wants to send his son abroad for higher studies. It was his dream because he could not get such a higher education or chance to go abroad because his father was poor. Ravi (Chaitanya) is his son and he lives up to his expectations and becomes a topper in Class X and also in engineering. At a time when Ravi was supposed to attend the Visa interview to go abroad, he chances upon Sameera (Aksha), whose views are very similar to him. He misses the interview because of her. He decides to take another Visa interview after six months. As he got time, he tries to find Sameera again and comes to know that she was learning dancing and he too joins the dance course. Both of them become good friends. One day Ravi proposes to Sameera and the latter refuses saying that she was already in love. So what happens to Ravi? Watch the movie to find what's in store!
Performance
Chaitanya, though crude, tried his best to perform well. He still needs to improve his body language and dialogue modulation. Though he worked hard in dancing scenes, he still needs to polish his talents to stay in the industry. But he is the only the saving grace, life and soul of the entire film. Aksha is cute and she did her role with sweetness. She looked good in all the departments including glamour, dances and performance.
Viswanath Kasi played another key role in the film. He played the role of a motivator in the beginning and as a caring father in the middle and stayed as a friend when his son was in a sorry state with failure in love. Other artistes including Raksha, Naresh and Hema did justice to their respective roles. Sivanarayana as an absent-minded principal and Satyam Rajesh as a dance master made a vain bid to entertain the audiences. The director failed to etch the character played by Master Bharat and his character appeared quite loud and unbearable. Brahmanandam was wasted and it is not known why he was chosen for a role in this film.
Technical
The cinematography in the film by experienced PG Vinda is outstanding. He maintained perfect lighting and excelled in the camera work. Editing by Marthand K Venkatesh is okay. As the storyline is based on the subject of dance to certain extent, the choreographers did justice to their job. However, the improper placement of songs spoiled the spirit. The costumes are average and the art department is nominal. For a stale script, Vikram Raj penned the dialogues which lacked punch. Unfortunately, while penning the comedy track, the writer went out of bounds and penned crude and sexy jokes which had double meanings. When it comes to Neelam Veeraprasad, the direction is poor and it reflected his immaturity. Neither the story, nor the screenplay was impressive and the presentation of the film is mediocre. The director failed to narrate the subject in an impressive manner in the absence of good screenplay or gripping subject.
Remarks
The story while narrating orally sounds good and mesmerising. But while presenting on the screen, the director should concentrate on many issues. Especially, the director began the story impressively but when the love thread intervened, it went out of track. It is not known how a committed student, just ignored his most-awaited interview for the sake of a girl. The film goes haywire after the beginning of the love angle and turned boring with a mix of comedy scenes, songs and unnecessary combination scenes of the hero and heroine. As a whole after watching the film for around two hours, the audiences will feel sorry for coming to the theatre.