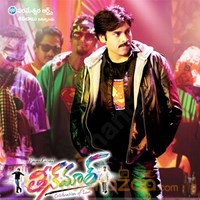 Theen Maar Review
by

MyMazaa.com
---
Story
Story opens in Varanasi with the introduction of Arjun Palwai & Michael Velayudham. Michael works as chef in an Italian restaurant in Bangkok and aims to turn as a stock broker at New York stock exchange. In the meantime Michael falls in love with Meera (Trisha) and in no time they were seen in relationship. After a year, Michael who doesn't believe in long relationships breaks up with Meera and celebrates the break-up party.
Senapathi, the restaurant owner narrates Michael, the life story of Arjun Palwai that took place 30 years back in Varanasi. Arjun Palwai is a student leader and he falls in love with Kritikharbandha. Arjun is serious about his love and wants to make it long lasting with marriage. He speaks to Kriti's father regarding this for which the later disagrees. On the other hand, Michael and Meera who breaks up can't get over each other though they find hard in finding their new one's Johna and Sudhir (Sonu Sood). Arjun's love story influences Michael and he slowly changes his nature towards love and long standing relationship. He now tries to get back his love Meera. How does Michael and Arjun Palwai succeed in their love is to be watched on big screens?
Performances
In a word, Teenmaar is Pawan Kalyan's show all the way. Pawan Kalyan has excelled in both the roles as Arjun Palwai and Michael Velayudham. Arjun Palwai's role remains hot favorite to every one though Michael's characterization is big. Pawan Kalyan looked quite handsome in the Michael's role in his cool costumes. Power Star has this time rocked in romance and dances too, especially in Aale Bale and Oho Basti Dorasani songs.
Trisha's characterization is good and the actress has carried out the emotional scenes quite well. But she could have taken much care in her make-up, where she looked elder to Pawan Kalyan in a couple or more scenes.
Kriti Kharbhannda looked extremely good but the actress doesn't have much role for performance. Nevertheless, she scored well in what she was offered.
Technical Aspects
Cinematography by Vincent is on top-notch. The movie looked colorful right from the first scene with every frame standing. The exotic locales in songs and scenes are well picturised.
Mani Sharma's Music has received positive buzz prior release and three of the songs are good to be watched on-screens. While Basti Dorasani and Aale Bale are to be watched for dances, Vayyarala makes a good number to be watched.
Editing could be much better as there are many dragged portions both in the first half and second half and they could have been trimmed off easily.Dialogues by Trivikram are good in parts especially in the pre-interval portions and pre-climax portions. Trivikram played a big role in bringing out the positive buzz for Teenmaar. Being a remake specialist, Jayanth has handled the subject well in the direction part. Parameswara Arts banner's production values are rich and lavish.
Analysis
Being the remake of Love Aaj Kal, the film-makers didn't make any major changes to the Telugu version and played it safe. Teen Maar is almost the carbon copy of LAK. So people, who have already watched LAK, may not find anything exciting about Teen Maar. However, Pawan Kalyan is the show stealer of the film. Pawan Kalyan's fresh looks and his performance along with Trivikram's dialogues are the big time plus points of Teen Maar along with its climax, cinematography and the production values. On the flip side, slow paced narration with some dragging portions is a minus point. All in all, Teen Maar is a decent remake and makes a good watch.
Final Verdict Entertainement guaranteed!!! Go for it and you won't get disappointed…