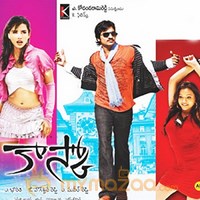 Kasko Review
by

MyMazaa.com
---
Released on the eve of Christmas, Vaibhav-starrer Kasko, presented by yesteryear's star director Kodandarami Reddy, fails to cash in on the festive fervour. Coming up with a rather weak storyline, the film tries to bank on Brahmanandam's star comedian status in the first half. Vaibhav tries his best to pull through the action sequences and comedy scenes, but it is dance where he is at his best. G Nageshwar Reddy (director) should have resorted to better techniques to entertain the audience, instead of trying to incorporate Telugu cinema's most-trusted elements like comedy (which more often than not take the form of cheap humour) and more action than is necessary.
Kasko starts off well with a powerful action sequence, where our hero has got just 20 minutes to finish all the thugs, because he should catch a train to Hyderabad. He well completes the task and succeeds to escape his father's eyes (which means he has not a single cut on his body and his clothes neat). On board, he accidentally bumps into Mahesh Babu (Brahmanandam), with whom he goes on to stay for the next few weeks. Also there is a girl, who has no purpose except to show her skin in two numbers and try make a sleazy film with a fatso in a mall. Mahesh shares his flashback where he was humiliated by Allauddin's men at the Charminar; here, though the intent of the director is to evoke laughter, it doesn't end up producing because no one wants to see an IPS champ stripped by street rowdies, even in a film. And if it is shown to produce laughter, it instead seems baffling and insensitive. If Brahmanandam's rage to eliminate rowdyism is mere anger without the guts, Pawan Kalyan a.k.a Vamsi (Vaibhav) has got the valour to destroy Topu Malleesh, Saleem and others, Wednesday after Wednesday.
Meanwhile, our hero is making an endless search for Hasina Begum. If we do not know why, a call from his father (Chalapathi Rao) asking Vaibhav to find her soon tries to pep up suspense. Allauddin is presented as the biggest villain of them all, but in second half he has no role. Though the hero is on a hunt for him because he alone holds the clue to his lover girl's whereabouts, he has the time to indulge in merry-making, shake his hips, tease and even join a software company. How come he is able to make fun when his 'dil ki dhadkan' is in the villain's custody and when he doesn't even know if she is safe?
Go and find out for yourself why the hero goes to Warangal in the second half and why Prakash Rawat has the girl arrested in his house.
Go and find out for yourself why the hero goes to Warangal in the second half and why Prakash Rawat has the girl arrested in his house.
Do not expect an entertainer. Everything is hackneyed and tacky. From performances to dialogue, screenplay and music, everything makes you ask for more. Why does the hero need to worry to know the girl's name when she is an RJ who tells her name every five minutes on her show?
Vaibhav needs to develop his style and not imitate others. He belongs to that class of the heroes who follows the blueprint laid down by bigger screengods and it doesn't augur well for a budding male star. Shwetha Basu should slim down and should not do easy roles. The director tries to draw from others' signature (Sreenu Vaitla et al).
Jaya Prakash Reddy's comedy sounds a repetition of some of his previous acts, especially Kick. The Padma Shri comedian manages to tickle the funny bone, on and off. Rawat is insufficiently menacing.