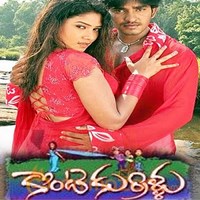 Konte Kurrallu Movie Reviews
Konte Kurrallu Review
by

MyMazaa.com
---
The film reflects the mentality of the present day youth. Two friends live in neighboring plots. One is Anil Gavaskar (Dharmavarapu Subrahmanyam) and his wife is Hema (Hema). They have a son called Sachin (Master Vijay). The other is Govindu (Brahmanandam) and his wife is Jyothi (Jyothi). They don't have children. A car driver used to stay with them. He looks to be very loyal to that family. While Anil Gavaskar is very fond of cricket, Govindu is a building contractor. Govindu is a kind-hearted man and also loves his wife very much. In this backdrop, Anil Gavaskar lets out his pent house to three engineering students.
All of them are from different places and being in teenage, they used to watch girls and women with lusty looks. Once they try to meet some call girls and get caught by the police. Inspector thrashes them. Then they keep watching Jyothi in the opposite plot, as she looks beautiful. Each of them presumes that he is enjoying with her. In order to teach them a lesson, Jyothi once takes them away, get them undressed on the road and speeds away. Again they get caught and thrashed.
When Jyothi asks for a film CD, the threesome gives her a porno CD and she did not chide them. As if she is encouraging them, the three meet her and reveal their wish to her. She replies that she was ready to share bed with them, provided they kill her husband. The three sincerely try to kill Govindu but fail. Govindu, who realizes that some one is trying to kill him, transfers all his properties in the name of Jyothi. Even as she realizes how nice and kind Govindu is, their car driver, who is also trying to kill Govindu to grab the property makes a murder attempt and almost succeeds. Govindu falls in coma, but due to all his goods his 'atma' comes out to prove the truth. But neither his voice nor his body could be seen. The God tells him that those who could hear his voice only could visualize him. Govindu tries everyone and finally finds Sachin is recognizing him. With the help of Sachin, Govindu reveals everything to police and who was the real culprit that made murder attempt on him. When the police catch the real culprits, Govindu's atma rejoins his body and he recoups from coma. The film ends on a happy note.
Though the film has nothing to boast much, the comedy by Brahmanandam just before the climax kept the audiences in good humor. Comedy track in the form of cricket match is also good. But these concepts in it cannot make the film run for many days as it runs like a comedy track. Rajkiran's music, camera work by SV Sivaram and dialogues by Vipanchi are just average. It is not just known what the director and story-writer has in mind. Neither the film is an entertainer nor has any message. A film that can be ignored comfortably.
Cast: Santosh Pavan, Jaheer Khan, Vijaya Sai, Brahmanandam, Dharmavarapu Subrahmanyam, Surya, Gouthamraju, Kondavalasa Lakshmana Rao, Krishna Bhagawan, Gundu Hanumantha Rao, Master Vijay, Kaasi, Jyothi, Hema, Lahar, Abhinayasri and others.
Credits : Story €" Yarramsetty Sai, Dialogues €" Vipanchi, Music €" Rajkiran, Camera €" SV Sivaram, Edting €" V Nagireddy, Lyrics €" Taidala Bapu, Venkateswarlu, Mallireddy Chandrasekhar, Presents €" Maram Srinivasa Rao, Producer €" P Kasi, Screenplay and direction €" Sivaji.
Banner : Narayana Creations