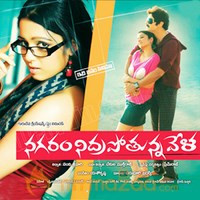 Nagaram Nidra Potunna Vela Movie Reviews
Nagaram Nidra Potunna Vela Review
by

MyMazaa.com
---
Niharika (Charmee) is a young journalist, who works for a news channel and believes in idealism. However, her boss (Ahuti Prasad) desires to raise his TRP ratings with sensational news than bringing in truth to the people. Niharika ventures out one night to gather some sensational news for the channel. Unfortunately, she happens to capture a politician talks with her pen camera that spoils his status if it is aired. The politician sends goons after her and in this process she meets Prasad (Jagapathi Babu). What are the challenges Niharika faces and how will she overcome her problems forms rest of the story.
Performances:
Charmi has delivered a mediocre performance as a journalist and is good in few scenes. But wonder why the actress is giving her nod for meaningless scripts. It's the time Charmi has to realize and accept the roles that gives her a break.
Jagapathi Babu's performance is okay but he did not have much importance for the role. Pilla Prasad was apt, Uttej is good, Ahuti Prasad is mediocre, Parachuri Gopalakrishna was acceptable while others hardly had anything to deliver.
Technicalities:
Lakshmi Narasimhan's cinematography is okay, Yasho Krishna's music is another backdraw with hardly any song pleasing to ears. The background score is poor. Dialogues by Paruchuri Brothers are pretty weak and seem to have lifted from films like Shivaji, Leader etc. The direction skills of debutant Prem Raj are poor and so is the screenplay which is another minus for the film. Production values are poor and has nothing much to talk of.
Analysis:
Nagaram Nidrapothunna Vela is a message-oriented film with the concept, journalists and media can change the present system and bring in a change in society. The makers need applause for their purpose. But such themes need a taut script and a breathtaking screenplay. Unfortunately, the film suffers from many problems. Right from the word Go, NNV moves with a slow pace and clichéd scenes that ends up as a boring watch on whole.
Final Verdict:
Nagaram Nidrapothunna Vela- Sure to sleep at the Box-Office!!!