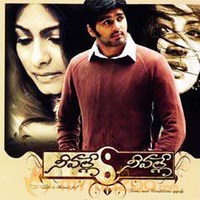 Neevalle Neevalle Movie Reviews
Neevalle Neevalle Review
by

MyMazaa.com
---
Cinematographer turned director Jeeva, who showed his class in Tamil movies like '12B' and 'Ullam Ketkume', puts up a mature mind in handling a three-cornered love story this time. His strength seems to be getting the backdrop right and making it tells the story along with the events. His Tamil film 'Unnale Unnale' was dubbed into Telugu and was simultaneously released in Telugu as 'Neevalle Neevalle'. It is one of the most cute and cuddly kind of city love stories. They say devil is in the detail. But delight too is.
Neevalle Neevalle is packaged with care and oozes a trendy chic feel all through. Jeeva has worked on the backdrop assiduously and makes the story appealing and realistic. In his endeavour, music director Harris Jayaraj has chipped in heartily and adds a unique lustre. The main cast of debutant Vinay, Tanisha and Sada are in splendid form and give value to their roles. Sada in particular is full of restrained gusto and delivers a knockout punch of sorts.
Jeeva seems to have done pointed research into the world of software yuppies and the things that happen in their unique domain. And since the tapestry is real and cute, the movie unspools without any stutter or struggle. Jeeva maintains this cool hip kind of feel all through (Melbourne with its unique old world feel in a modern setting gives the story an effective backbone), and this consistency is vital to the story's progress. Jeeva also gets the mix of comedy, romance and emotion just about right. So what you have is a complete product that ranks among the top.
Karthik (Vinay) is your typical software pro. Full of zest and playful energy, he is attracted to the opposite sex with inevitability of iron particles moving towards a magnet. There is nothing malicious or lustful behind his flirt. But it is a spontaneous inner process in him. His love life in Hyderabad had a jolt-filled end as his lover Jhansi (Sada) had walked out on him.
Jhansi, in a sense, is the mirror opposite of Karthik. If he is outgoing, fun-filled extrovert, she is laconic, inward-looking simple girl. The opposites had attracted each other. But as it happens, she is also repelled out for obvious reasons. Karthik takes the split with typical insouciance while Jhansi goes to Australia for higher studies.
Fate puts Karthik also in Melbourne as he is sent there on an official assignment. The playful Karthik runs into a vivacious Deepika (Tanisha) in his flight. She has the same kind of zeal for life as Karthik has. She understands his mind and tries to help Karthik and Jhansi join hands again. But in a quirk of fate, Deepika too is attracted by the vibrancy of Karthik.
It is a Mills and Boonish situation, but with a touch of acceptability. Caught between his old flame, which can be very difficult to handle, and a new one, who is all about lark and fun, Karthik has to decide on which girl to walk the aisle with. The suspense till the end is maintained with felicitous adroitness. This helps you to sit glued to the seat. Jeeva's script works mainly because, he doesn't push the story. Rather it tells itself organically. The naturalness and plausibility make the story worth following.
Vinay, tall, dark and handsome, who was basically a model in Bangalore, suited the character of an impish yuppie to perfection. The queer playfulness that seem affixed to his face comes handy in light-hearted moments. He brings to his character a dew-kissed newness. Though slightly one-dimensional and gawky in dialogue delivery, Vinay, if he makes the right choices, has a good future in the industry.
The most inspirational part in the movie is Sada's performances. Playing a complex, possessive girl, Sada has given the character the much-needed intensity and has tailored her looks to convey the inner seriousness. The flickering of emotions behind the glassed eyes is very effective and convincing. Tanisha, on the other hand, has the same cherubic happiness of her sister Kajol. She is also very energetic.
The three characters understand each other and feed off from others. So what you have a very realistic flow of emotions. Raju Sundaram's character adds the necessary zaniness to the script.
Harris Jayaraj always reserves the best for Jeeva. 'Neevalle Neevalle' confirms that. The re-recording is of the highest class and brings alive the emotion of the moment very beautifully. The songs carry with them a veneer of class all through. All the songs are brilliant and get an extra sheen in the way they have been stylishly picturised.
Jeeva, who has done the double role of directing and handling the camera, has not slipped on both the fronts. In fact, one compliments the other. To a movie on love, his work is filled with love and care. How apt! 'Neevalle Neevalle', on the whole, is a cool romantic treat for a hot season.
Cast: Vinay, Sada, Tanisha, Raju Sundaram, Srinath, Satish and others
Credits: Lyrics ?? Bhuvanachandra, Dialogues ?? Shashank Vennelakanti, Musis ?? Harris Jayaraj, Presents ?? Oscar Films Pvt Ltd., V Ravichandran, Producers ?? AK Ramana, C Vijaykumar, Story, cinematography, direction ?? Jeeva.