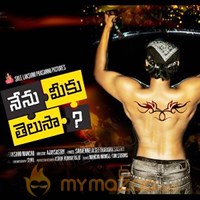 Nenu Meeku Telusa Movie Reviews
Nenu Meeku Telusa Review
by

MyMazaa.com
---
We are aware that based on the theme, short term memory loss (Amnesia), films like 'Gajini' and 'Satyabhama' were made in the recent past. A subject on the same theme, posing a different storyline, using new technical values a film titled 'Nenu Meeku Telusa?' has been made, having Manoj, Sneha Ullal and Riya Sen in the lead cast. The film is presented by Dr M Mohanbabu and produced by Lakshmi Prasanna on Sri Lakshmi Prasanna Pictures banner, in the direction of Ajay Sastry. Here is a review on the film that was released on the 10th of October.
STORY
Aditya aka Adi (Manoj) is the Manager of SS Group of companies in India. His father (P.Vasu) is a NRI millionaire. He goes to US to assist his father. After a gap of two years, he comes to India along with his father, to meet his girl friend Anjali (Sneha Ullal). However, before they could meet Anjali, they meet with an accident and his father gets killed while the protagonist suffers a loss of memory. He forgets everything once he goes to bed. Adi's paternal uncle (Nazar) turns as a caretaker and arranges for a doctor (Harsha Vardhan) to visit India once in every month to treat his nephew.
The doctor records, every day chores of Adi into a cassette in Adi's voice. And instructs him to listen to it daily to remember who he is and what he is supposed to do. This helps the hero do his daily work without depending on others. Adi's uncle (Nazar), who is the MD for SS Group of companies, is the only person who is aware of his rare disease apart from the doctor.
Madhumati (Riya Sen) is the vice-president of the same company. Suneel (Suneel) as GM, Rajesh (Uthej), Lakshmi (Surekha Rani) and fashion designer Barmani (Brahmanadam) also works for the same company. Adi meets Madhumathi in the company and falls in love with her. Although Adi could manage most of his daily works, he stumbles into troubles cause of his amnesia.
Suddenly one day Adi's uncle gets murdered, and police find the body in Adi's car. He gets arrested for the uncommitted crime. Incidentally, the case is taken up by Anjali (Sneha Ullal). Someone destroys the cassettes prepared by the doctor for Adi. How Adi is saved from the murder case? Who is Anjali? Who is behind the murder? All these are to be watched on screen.
Performance of Artists
If we have to mention about any special performances in the film, it is the hero Manoj's performance. Unlike his earlier films he has exhibited 3-kinds of body languages in this film. He showed one kind of body language in college sequences, another in the office environs and one more for the action scenes. In context with the appearance, body language and performance wise Manoj has taken a lot of care for this film. We see a completely new Manoj in this film. He has also written the first song for the film, and composed the first fight sequence in the film. Both of them have been done very well. Interestingly, Manoj repeats the popular dialogue of Mohanbabu from 'Pedarayudu' in this film. We should appreciate Manoj for all these achievements and his meticulous efforts to bring out his best.
Riya Sen has done very well in her role of a professional girl with the least glamour quotient. Introduced to Tollywood through 'Uthsahamga Ullasamga', actress Sneha Ullal did well as a lover and also in the role of an IPS Officer. Both the heroines are additional assets to the film.
Nazar as manoj€™s uncle did well within the scope of his role. Brahmanandam as a fashion designer Brahmani, and Suneel as the General Manager Suneel are good. Surekha Vani as the girl friend of GM, has entertained the audience by tickling their funny bone.
A scene which is identical to a sequence in 'Super', has been canned on Ali and Brahmanandam. The characters of Ali, Tanikella Bharani, Raghu, Amit, Supreet, Anant and MallikarjunaRao, although appearing for a short time on screen have been portrayed brilliantly.
Technical Aspects
AjaySastry's screenplay is superb. Music composed by Achu and Dharan is good. Especially, the songs 'Kannu moosthe jananamele€¦' and 'Edo edo€¦' are nice. The background score is excellent and adds a mellifluous effect to the film. Manchu Manoj, Tim, Storms and Bob Chaplin's stunts plus Nandu and Julie Sabastians fights are good to watch.
Photography by Suneel K Reddy, especially the light-effects used for the fights, the slow-motion accident scene in the beginning of the film have been cinematographed sharply. Editing by Basva Padi Reddy and Naveen is nicely done with proper cuts. Without constructing sets for songs, the visuals done by Think Smart and Phixloyed are very good.
Director€™s Portrayal
Director AjaySastry who debuted with this film, has taken a lot of care without compromising on anything. He has presented this film as a technical wonder which is very different from the routine formula. The narrative style used to tell the story and portrayal of the characters is quite unique. We can say with our eyes closed (of course after watching the movie) that AjaySastry is another newly founded talent for Tollywood. The director is sure to make slick coups in his upcoming films of the future.
Cons
The capabilities of Suneel and Brahmanandam were not fully utilized as they are capable to render even more performance. In the second half, hero's personal doctor (Harshavardhan) departs saying he will be back in an hour, and never returns. What happens to the doctor is not shown and becomes a silly void in screenplay. In the accident scene involving the hero and his father, it is not clearly shown as to what happens to the hero's father. The director's focus, shown on the hero's script in the first half has diminished in the second half. Yet, pros are abundant to shadow these flaws.
Criticism
Based on short time memory loss a film 'Memento' was produced in Hollywood a long time back. With this film as a inspiration, earlier 'Gajini' was made. With the same theme added with a flavor of little freshness 'Nenu Meeku Telusa?' is presented in a new way. In a nutshell, 'Nenu Meeku Telusa?' is an unusual experiment with a stunning look.
Released on: October 09, 2008