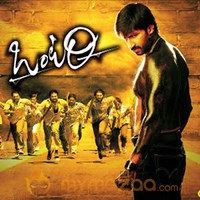 Ontari Review
by

MyMazaa.com
---
Revenge dramas had become pass̩. No longer do we have macho heroes bashing up the goons a la the 1980s and walking into the sunset. Today۪s popcorn generation loves romantic comedies and the Gen X wants to see the hero and heroine zipping past on a bike into the sunset. But with 'Ontari', the makers attempt to revive the genre of the good, old fashioned revenge dramas.
So, we have all the ingredients that are essential to whip up one. There is the good guy or the hero Vamsi (Gopichand). Then there is the happy family. As is the case with all such films, he falls in love with Bujji (Bhavana). Call it sheer coincidence, but it is love at first sight. Though the heroine refuses to take the cue initially. So, he tells her that he is a CBI officer and voila, she falls for him instantly. Déjà vu? We warned you already!
Now if you think there are not enough similarities with revenge dramas of the yore, then here€™s an encore. There is a local baddie Lal Mahankali played by Ashish Vidyarthi, who has a spoilt brat brother Panda (Ajay). By another coincidence, Panda eyes Bujji and misbehaves with her. Surely this is not reason enough to instigate our hero. So, the next logical act for the revenge drama happens -- the kidnapping and subsequent rape of a girl, who is special to the hero. At the same time, he is back-stabbed by his politician-friend Raghava, who stands by Lal Mahankali and Panda. The girl dies and our hero conveniently slips into coma.
From here on, the film enters the revenge mode. But it€™s not just the loss that Vamsi suffers from. He also suffers from a different form of schizophrenia or so we are told. He has hallucinations about the girl being still alive. So like in quintessential revenge dramas, the film ends with the hero taking his revenge.
In case you wondered what€™s new, then the fact that it is a revenge drama is itself something different, in the age of €˜go-getter love stories€™. Then of course, the producers behind the Eetaram Films banner, which is known for its message-oriented films, have decided to take a break and go all commercial. Barring that, whatever you get to watch is something you had watched before.
However, that is not to say the film is a no-no. Gopichand puts in a strong performance and manages to show his softer and rough sides simultaneously. Bhavana is simple and suits her character. As for the others, they play their parts with their usual conviction. The director BV Ramana sticks to the action flick genre and does not bother to digress from it one bit. So, the film tends to get a bit intense and rather monotonous at times.
But Mani Sarma has some good numbers and the songs shot abroad are visually pleasing. Despite it being an action film, you cannot but help wonder how it would have been, had the director tried some comedy, just to give us some respite.
It surely is no trend-setter. But if you are happy watching revenge films, then check this out! You won€™t go home disappointed.
Cast: Gopichand, Bhavana, Ashish Vidyarthi, Rajeev Kanakala, Ajay, Sayaji Shinde, among others
CREDITS:
Banner: Eetaram Films
Producer: Pokuri Baburao
Music Director: Mani Sarma
Director: BV Ramana
Release Date : 15-02-2008