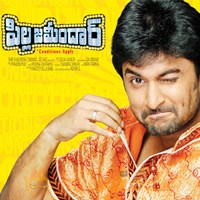 Pilla Zamindar Movie Reviews
Pilla Zamindar Review
by

MyMazaa.com
---
Story
Praveen Jayaramaraju aka PJ (Nani) is a rich careless guy and the only successor of Zamindar Rudra Rama Raju (Bapineedu) having a property of 5000 crores. While he expects the whole property to be his own, once he becomes a major, his grandfather leaves a will with few conditions. Firstly, PJ should complete his graduation and he should live on his own pocket money in a hostel. PJ will be forced to fulfill these conditions and in this regard, he will travel to a village siripuram and joins a college that has Military Rajanna (Rao Ramesh) as principal. In the process, he meets several people and how his life gets transformed is all about Pilla Zamindar.
Performances
Nani has delivered a good performance and his histrionics, body language, comedy timing need a special mention. He was equally good in emotional scenes too. He pulled off the PJ character quite well.
Hari Priya was mediocre and her performance was okay but she needs to work on her expressions. Bindu Madhavi on the other hand had only a brief role. She was good in whatever she has done.
Sriniva Avasarala, Rao Ramesh and MS Narayana are perfect in their respective roles and added their value to the film. Naginnedu is natural, vennela Kishore is laudable, Thagubothu Ramesh was standard and others were adequate.
Technical Analysis
Dialogues by Chandrasekhar are at good at places and his one-liners are commendable. Sai Sri Ram's cinematography is good while editing is crisp. Selva Ganesh'ss music is below average and you don't remember a single song when you walk out of theaters. Screenplay could have been much better as there are few loopholes in the narration. Ashok has handled the script well by balancing between the entertainment and melodrama. A better second half could have made a better product.
Analysis
First things first, the director has lifted the story from a Korean film 'A Millionaire's First Love' and has transformed it to suit the nativity of Telugu audiences. The film is a fun ride in the first half with Nani's acting being the highlight. On the other hand, the second half too melodramatic and reminds you of 80's and 90's sentimental films. Nonetheless, it has entertaining moments too. The love angle should have been much better as it looked unreal. The film might have done wonders if the director had come up with a racy second half too. The climax part is yet again good. All in All, Pilla Zamindar is a good entertainer laced with melodrama.
Final Verdict: Pilla Zamindar is a one time watcher.