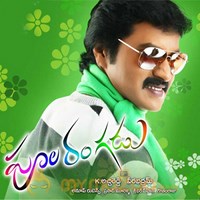 Poola Rangadu Movie Reviews
Poola Rangadu Review
by

MyMazaa.com
---
Story
Ranga (Sunil) is a real estate dealer in Hyderabad who is in fianancial mess. He buys a land in the surroundings of Warangal by keeping his father's house in risk so as to seel it and gain profit. But later he realizes that Konda Reddy (Dev Gill) and Lala Goud (Pradeep Rawat) are causing trouble by killing the persons who come to purchase that land. In this regard, Ranga, with the help of his friend Vasu (Ali) plans to make Lala Goud daughter Anitha (Isha Chawla) fall for him. He tries to bring the two families together. What will Ranga do now? How does he get back the land and sell it forms the crux of Poolarangadu.
Performances
Sunil has come up with an excellent performance. He is at ease in doing comedy, dances and also in emotional scenes. It's a treat to watch him in the imitation dialogues of star heroes. He has convinced with the emotional scenes and the climax scene.
Isha Chawla is natural and cute. Performance wise, Isha is impressive and her scenes with Sunil have come out well.
Dev Gill's character could have been etched well while Pradeep Rawat was okay. Ali, Sathyam Rajesh and Raghu Babu are good. Telangana Sakunthala is perfect, Prithivi raj is hilarious. Rest of the cast Sudha, Kota, Duvvasi Mohan etc did their bit as required.
Technical Analysis
Veerabhadram's direction is good and it's an asset for the film. Screenplay in the first half is entertaining while it's a bit slow in the second half though there are not many boring or dull moments in the film. Cinematography by Prasad Murella is on top notch and Sreedhar Seepana dialogues make a mark by adding value to the film. Editing is good. Music by Anoop Rubens is okay while the background score lifted the emotional scenes. Kanal Kannan action sequences need a special mention. He has done a good job. Production values of RR Movie Makers are standard.
Analysis
Sunil's hard work in achieving Macho look is appreciative but in the process he has lost the original charm in his face. The actor needs to immediately work on this. Veerabhadram and Sunil are the real heroes of Poolarangadu. Though the director has come up with the run-of-the mill story, he has managed to keep the audiences glued with the entertaining screenplay. Poolarangadu has the shades of 'Maryada Ramanna' or 'Hanuman Junction' and other recent films but the director's grip on the script and narration made Poolarangadu an entertaining watch.
The first half of the film is quite entertaining with hilarious moments while the second half has emotional elements and moves on a bit slow pace. The climax fight has been shot very well with Sunil flaunting his six-pack abs.
Final Verdict
Though a routine story, Poolarangadu entertains to the fullest…