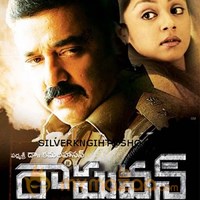 Raghavan Review
by

MyMazaa.com
---
Director Gautham is very good at moulding police subjects on the celluloid. He is also well-known among the Telugu audiences as he had directed 'Gharshana' with Victory Venkatesh as hero. It is no exaggeration to say that whenever the Tamil and Malayalam producers plan a police subject, the first to be consulted to direct the film would be Gautham and he had directed many top stars in Tamil and Malayalam.
Keeping all this in view that the director and Padma Shri Kamal Hassan are well-known figures in Telugu, KVV Satyanarayana and Sakhamuri Panduranga Rao thought of remaking a Tamil film 'Vettiyadu Velayadu'. In fact, the film is a typical investigative drama.
Another interesting feature is that over 90 per cent of the film was shot in New York. In view of the difficulties in obtaining permission from the authorities abroad and the financial difficulties, they had decided to dub the film and the film was released in Telugu on the name of the hero 'Raghavan'.
Raghavan (Kamal Hassan) is a sincere cop. Anand Raj (Prakashraj) was his senior and his best friend. Raghavan falls in love with Meenakshi (Kamalini) and some local goons kill her due to professional rivalry. Anand Raj helps Raghavan in taking revenge officially through encounters.
Later, Anand Raj seeks Raghavan's help in tracing his kidnapped daughter Rani. Raghavan investigates and finds that she was murdered. Later, Anand Raj and his wife leave for New York, where they also get executed. Raghavan goes abroad to collect their bodies and also investigate into the murder on behalf of India. He finds similar murders and continues his investigation with the help of a detective. Meanwhile, Raghavan comes across a girl called Aradhana (Jyothika) who was a divorcee and falls in love with her. During his investigation Raghavan finds that there two killers and could also find their names as Aditya and Sankar, who were medicos by profession.
They turn psychopaths and used to rape and kill gullible people. When Raghavan raids their house, they attack him and thinking that Raghavan would die, Sankar confesses everything about murders. Raghavan somehow regains his life. Fearing that the police would catch them, they both return to India and Raghavan also returns to India and eliminates both the killers.
Performance:
Kamal Hassan: There is no need for a special mention about Kamal Hassan's acting capability. He brings a sharp idiom to the role of a DCP who has to hunt to some faceless killers. He will always reach the expectations kept on him by the audiences. However, in the beginning of the film a little care was taken to show him glamorously but after an hour or so, the director did not take special care in his make up. He looked a little older just before the climax. However, he continued to show good ease in action scenes and other regular scenes.
Jyothika: Though there are two heroines, Jyothika had got a little more footage than Kamaline Mukherjee. She played the role of a divorcee. Her body language, performance and ease in showing the expressions on the face were undoubtedly superb. Like 'Chandramukhi', she had got a lot of scope to perform in this movie. Though the audiences get a doubt as to why she was introduced, they would realise that her assistance was needed in the climax to eliminate the villains.
Prakash Raj, Kamalini Mukherjee and others did complete justice to their roles.
Technical:
Camera, editing: The highlight in the film is the camera work by Ravi Varman. He gave a different flavour and feel to the movie. The angles are novel and keep you interested all through. It is technically superior, the edges are pared down to give a steely, glassy and yankee feel. The lighting is moody and menacing in turns, just the backdrop for an urban thriller. Another major plus point in the film is the superb editing. Editor Antony made the film quite interesting in easy and effective links.
Music: Harris Jayaraj scored nice tunes to the songs and they were equally good even in the Telugu dubbed version. At the same time, during re-recording, he took very good care while providing music to elevate the mood in an investigative police story.
Direction: Gautham's directorial abilities in exploring New York is really amazing. The film is slick and shiny all through with all the pauses and poise that such a script requires. The entire first half runs with a kind of typical detective subject. But in the second half, the director lost grip after the interval only to regain before the climax, i.e, for about 20 minutes. But for the boring 20 minutes the film is okay to watch. The director ensured the movement of the story in a novel way and in a 'Bond' kind of investigative film. The action scenes are quite stylish.
Cast: Kamal Hassan, Kamalini Mukherjee, Jyothika, Prakash Raj, Ahuti Prasad and others.
Credits: Dialogues €" Dasarath, Camera €" Ravi Varman, Editing €" Antony, Action €" Stun Siva, Lyrics €" Veturi and Vennelakanti, Music €" Harris Jayaraj, Presenter €" Manikyam Narayanan, Producers €" Sakhamuri Panduranga Rao and KVV Satyanarayana, Story, screenplay and direction €" Gautham Vasudeva Menon/
Banner: Seventh Channel Communications
Released on: August 31, 2007.