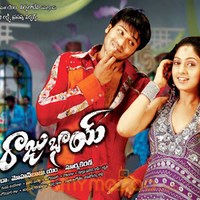 Raju Bhai Review
by

MyMazaa.com
---
Rajubhai - Manoj's film brings cheers to Mohanbabu
Manoj who entered into films with 'Donga Dongadi' won critical acclaim as a good artiste. Moreover, had a good voice modulation like his father. His second film 'Sri' again proved a failure. After the second film, Manoj took a reasonable gap and came up with the remake of a successful Tamil film 'Chittiram Pesudadi' in Telugu, with debutant heroine Sheela. The film opened with good crowds and earned above average to hit talk. Director Surya Kiron proposed the movie to Dr Mohanbabu, who came forward to produce the film with Manoj as hero.
Raju (Manoj) saves Santosh, son of Babaji (Dandapani), a local don, from his rivals. Babaji gives Raju a job in his gang on learning that he was in search of job. Raju loses his heart to a girl Anjali (Sheela) and on her advice, quits goondagiri with Babaji and starts selling stuffed toys. Anjali and Raju get engaged with the blessings their parents.
Later, Anjali once finds Raju in a redlight area and is being trampled by police. Raju tries to meet her and explain his innocence. But by that time, Anjali's father (Bharani) commits suicide. As Raju fails in his love, returns to Babaji.
However, he finds that Santosh was in love with Anjali and wanted to marry her. But Anjali's marriage was fixed with some other boy (Santosh Pawan). Raju wished Anjali married to a boy of her choice opposes Babaji. In the climax, Anjali realizes Raju was innocent, but became a scapegoat to save her father's prestige. Babaji stabs Raju for opposing him but on learning that Raju loved Anjali admits him to a hospital and saves his life. The film ends on a happy note with the union of Anjali and Raju.
The speciality is that there is no particular villain in the film and it is the situation that turns villain and causes differences between the hero and heroine.
Manoj improved his body language a lot and performed extremely well. His ease in action scenes and dances is worth watching. Sheela looked glamorous and also performed well.
Music by Yuvan Shankar Raja had good mass beat and choreography of a couple of songs is excellent. The choreography of songs was also good. Action scenes were also done in a stylish manner.
Comedy track with Brahmanandam, Ali, MS Narayana is hilarious. Sunil appears in a different way as a singer and his song with the names of different fish varieties is worth listening.
n the backdrop of two failures, Manoj could heave a sigh of relief. Production values of Lakshmi Prasanna Pictures are adequate. Camera by Prasad Murella is okay.
Cast: Manchu Manoj Kumar, Sheela, Dandapani, Tanikella Bharani, Giribabu, Rajiv Kanakala, Sunil, Brahmanandam, Suman Setty, MS Narayana, Ali, Mallikarjuna Rao, Santosh Pavan.
Credits: Story ?? Miskin, Dialogues ?? M Ratnam, Music ?? Yuvan Shankar Raja, Camera ?? Prasad Murella, Editing ?? Gauthamraju, Action ?? Action Prakash, Ram-Lakshman, Lyrics ?? Suddala Ashok Teja, Ramajogaiah Sastry, Presents ?? Smt M Nirmala Devi, Producer ?? Dr Mohanbabu M, Screenplay and direction ?? Surya Kiron.
Banner: Sri Lakshmi Prasanna Pictures