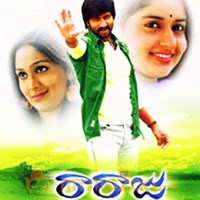 Raraaju Review
by

MyMazaa.com
---
After producing a decent and calm love story like 'Godavari', producer GVG Raju changed his track and came out with another love story with mass and action elements.
Gopichand who proved himself as an action and mass hero with two hit films like 'Yagnam' and 'Ranam' played the lead while Udayshankar, who directed a feel good and sentiment films like Kalisundam Raa wielded the megaphone for this film. Together they made it another good film, which had mass elements and at the same time it has feel good love, besides good sentiment.
Kali (Gopichand) is an ordinary man who arranges illumination and mike sets for local functions including marriages and public meetings. He is very kind-hearted and at the same times a tough guy when it comes to recovering the dues. Everyone in the colony is afraid of him and at the same time, they love him because of his kind heart.
An SI of the area is always after Kali and keeps saying that she is in love with him, but Kali did not care. At this juncture, a girl called Jyothi (Meera Jasmine) joins the colony. She ekes out her living by singing chorus in film songs. When some goons try to attack her she warns her that she is Kali's girl. Like that she enters Kali's life. Kali thinks that she loves her and he also loses his heart to her. But on one occasion, Kali comes to know her flashback.
In the flash back, Surya (Sivaji) who is the son of a peon (Chandrasekhar) wants to become an IAS officer. Surya and Jyoti could not appear for the IAS examination due to a crooked police officer Kotireddy Venkat Reddy (Asish Vidyarthi), who tries to implicate them in a brothel case.
As a result, Jyothi's stepmother throws her away from their house and she gets shelter in Surya's house. They both fall in love with each other. Unfortunately, Surya dies in an accident, but he continues to live in Jyothi's heart. On learning this, Kali decides to help her in fulfilling Jyothi's ambition and makes her an IAS officer. In the process he also teaches a lesson to Venkat Reddy.
In the climax, Surya's parents force Jyothi to marry Kali. When everything is ready, Kali decides not to marry her as Surya is still in heart. The film ends there.
The first half of the film runs like an ordinary mass masala entertainer. But, the director proved his mettle in the second half by giving different twists at every 5-10 minutes. The climax was very interesting and it is beyond anybody's imagination.
Especially, Gopichand's performance in the last half an hour is fascinating and superb. Whether it is a coincidence or the intention of the director, Meera Jasmine continues to face Asish Vidayrthi as villain in most of her films (like Balu ABCDEFG).
Gopichand showed similar ease at action scenes and maintained good comedy timing also. Meera Jasmine showed a balanced performance, while Ankita has nothing to do with the film but to fill the glamour slot.
Though it is a small role, Sivaji did justice to the character and remained a highlight of the film. Comedy by Venumadhav, MS Narayana and Jayaprakash Reddy is hilarious. Music by Mani Sharma is okay and cinematography by Ramnath Setty is good, especially during the action scenes. Chintapalli Ramana's dialogues are partly good. The director proved that he could rightly mix mass element with love and sentiment.
Cast: Gopichand, Sivaji, Meera Jasmine, Ankitha, Asish Vidyardhi, Jayaprakash Reddy, MS Narayana, Venu Madhav, Junior Relangi, Sumitra, Apoorva and others
Special appearance: Raj (music director) and Chitra (Singer)
Credits: Dialogues €" Chintapalli Ramana, Cinematography €" Ramnath Setty, Editing €" Marthand K Venkatesh, Music €" Manisharma, Producer €" GVG Raju, Story, screenplay and direction €" Uday Shankar.
Banner: SSC Arts