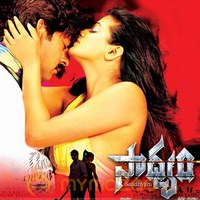 Saadhyam Review
by

MyMazaa.com
---
Ghosh! Here is yet another trauma. Jagapathi Babu, the once-promising actor and hero with a mild mass image and raw appeal, falters yet another time in his choice. And, yes, Priyamani, wastes her immense talent, one more time. Sadhyam is one good opportunity lost, to say the least. It seems to be throwing up an interesting part, and it keeps lurking in the beneath, never to come up in the film. It is because, the director seems to have undermined the essence of the film, rather unabashedly.
To begin with, Suhani (Priyamani) is seemingly traumatised by haunting memories. Paranoid and petrified, she is terrified with everyone. The cause of her fear is a mystery, but soon, the film goes in a flashback mode. As expected, way back some months ago, Suhani was a happy-go-lucky girl, daring enough to warn the oglers of stern action, if they continued to freeze the girls in their mobiles. Her friend (Keerthi Chawla) is all too happy being with her, until one day, when she calls her a whore, all for the sake of grabbing a job opportunity from her best buddy. Suhani is horrified at the sheer selfish and ulterior motives of someone whom she has always spent time with.
For a respectable girl like her, who hails from a middle-class family background, being taken to the police station and interrogated for suspected sexual felony, is a nightmarish experience and memory. Like a strong woman, she decides to put the ugly past behind her and move forward. It is then, when she bumps into 'Fevicol' Sandeep, who has already fallen in love with the pretty diva.
What follows is on expected lines. The guy pesters her, the girl tries to avoid him best. However, as expected again, Suhani gets attracted to Sandeep, and happens to spend a night with him. Much to her horror, Sandeep never takes her calls, after the night.
Why is Sandeep, who is in deep love with Suhani, avoiding her? Who is behind the exploitation of her best buddy, who is now mentally unsound? Will she ever find a way to come out of her fear psychosis (at present), and seek the pound of flesh from the villains behind?
It may so be said that Sadhyam is a good opportunity lost. It seems to follow from a good premise and could have thrown up an emotionally-charged and well-narrated story.
Coming to judging whether it is a normal story or a heroine-oriented one, it is neither here nor there. The film significantly revolved around the character of Suhani, but soon, instead of shaping her as a woman of substance, she is reduced to a caricature.
Priyamanis acting skills could have been used better. Jagapathi seems off-colour, only better than his last lousy outing, Maa Nanna Chiranjeevi. Tanikella Bharani's role, a crux to the story, should have been elaborate and more intriguing.
Technically, the film is stuck in the 90's. Music by Chinni Krishna is pedestrian. Lyrics are just about okay. The director needs to learn his trade better, lest he suffers a valuable point again, in future. Screenplay was simply outrageous.
All in all, it is not easily possible to sit through Sadhyam.