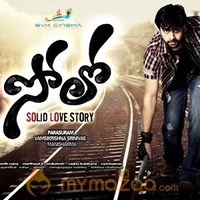 Solo Review
by

MyMazaa.com
---
Story
Gowtham (Nara Rohith) is an orphan and so he likes to get married to a girl from a large joint family so that he can feel them as his own. Gowtham falls in love with Vaishnavi (Nisha Agarwal) and goes on to woo her. Very soon Vaishnavi too falls in his love. Vaishnavi's father Raghupathi Naidu (Prakash Raj) wants his daughter to get married to a guy with a good family support and so he rejects to their love. How does Gautham convince Vishnavi's family and win her is the rest of the story.
Performances
Nara Rohith who impressed with Banam is back after long gap. The actor sported a good youthful look in the commercial entertainer. His voice is an asset but he needs to avoid his rigid expressions and histrionics soon to fit such roles.
Nisha Agarwal is good and she has delivered what ever she was supposed to. Her dubbing suited her well.
Prakash Raj impresses in his regular role as a loving father, Jaya Sudha is perfect Ali, MS Narayana provide laugh out loud moments, Srinivas Reddy is good, Narasimha is alright. Others did their roles as required.
Technical Anaysis
Dasaradhi Shivendra cinematography is on topnotch with rich and colorful look. Parassuram's dialogues are good and added strength to the film. He handled the emotional scenes quite well. He has succeeded as a director and resembles his previous outing Anjaneyulu. Though it's a simple and regular story, Parasuram succeeded in its narration. Screenplay is impressive though predictable. Editing could have been crispier in the second half. Mani Sharma's songs are okay but the background score is pretty good.
Analysis
Solo is a romantic cum family entertainer and director Parasuram has put in good commercial ingredients. We have seen the storyline many a times but Parasuram managed to treat it differently with a well-written script. The romantic scenes, witty dialogues in the comedy part, good family emotional scenes entertain us. While the first half of the film is laced with romantic angle and comedy, the second half is an emotional galore with family values and the climax is an asset for the film with good dialogues.
Final Verdict
Well-handled romantic family drama