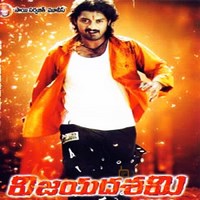 Vijayadasami Movie Reviews
Vijayadasami Review
by

MyMazaa.com
---
Though Samudra is known to be a specialist in remakes, he failed to make it this time. Kalyanram, who had no notable hits in his career tried his hand as a producer and succeeded to get a blockbuster, 'Athanokkade' in the direction of Surender Reddy. However, the next flick again turned a dud. He kept high hopes on 'Vijayadasami', which is the remake of a successful Tamil film 'Sivakasi' as it has lots of mass elements. However, with no novelty in the movement of the film, the film appeared to have targeted the front benchers alone. But for a couple of action scenes, the film has nothing much to boast off. The film appeared to be a routine commercial film with mass elements sans any masala.
Sivakasi (Kalyanram) runs a welding shed. However, he always remains helpful for the people around him. He meets Devi (Vedika), daughter of a big businessman (Paruchuri Venkateswara Rao) accidentally. On another occasion, he goes to the college and brings Devi to save one of his friends from the police and takes her back to the college on his bike. Thinking that Devi and Sivakasi were moving together, Devi's brothers misunderstand that they were in love and Sivakasi makes it true to teach them a lesson.
After a few turn of events Devi's father tells Sivakasi that he could not give his daughter to an orphan. Then Sivakasi reveals that he is not an orphan but was staying away from his family due to some differences and as per the order by his father and reveals the flashback. He comes out that his real name is Shakti and was the son of Chennamaneni Rajeswara Rao (Suman), a village elder of Vemulawada. During his childhood, Durga Prasad (Saikumar) the elder brother of Shakti, causes the death of a woman and his father mistakes that it was the fault of Shakti and orders him to get out of the village. Sivakasi tells Devi, her father and brothers that he will bring his family members by Vijayadasami.
After going to their native place, Shakti comes to know that his father died already and his brother Durga was behaving in an inhuman way towards his mother and thrown out his sister before her marriage. How Shakti teaches Durga a lesson? Will he be able to unite with his family? Did Durga realise his follies and understands that blood relationship is greater than everything? Answers to all these questions form part of the climax.
Performance:
Sivakasi @ Shakti (Kalyanram): Kalyanram's changed his body language totally for the film and gave a little stylish performance. However, the make-up, especially the hairstyle, failed to suit him at all and it looked atrocious. He neither looked stylish nor handsome in the attire. However, the make-up gave him a rugged look. As far as performance, he showed good ease in fights and in a couple of songs. Truly speaking, he failed to show perfect comedy timing and he needs to improve his dialogue modulation.
Durga Prasad (Saikumar): Saikumar played the elder brother of Kalyanram. It is a negative role. He really stole the show with his impeccable performance and dialogue delivery to which is very famous. However, before the climax, he too slipped here and there in maintaining good body language. Whatever it is, the Telugu screen got a new villain with a positive appearance. His pet dialogue, 'Naaku manchi ante ishtam vundadu, Chedune ishtapadatanu' became catchy for the audiences.
Devi (Vedika): The heroine appeared chirpy and filled the glamour slot perfectly. Though she had nothing much to perform, she ably utilised the opportunity whenever she got to show her acting capabilities and looked gorgeous in songs and in a couple of scenes. But she looked lean by the side of the hero.
Others: Though appeared in only a couple of scenes, Suman puts up fantastic performance, while Jayasudha is at her usual best. Kalyani of 'Yendamavulu'-fame played the wife of Saikumar, while Mounika of 'Radha-Madhu'-fame is okay as the sister of Saikumar and Kalyan Ram. Both of them did justice to their roles. Simran, who made a comeback into films, was roped in to do an item song, but she too failed to attract the audiences.
Technical:
Dialogues: Paruchuri brothers prepared the script based on the story written by Perarasu. Though they reportedly made certain changes to the original script to suit the nativity, the change could not be totally visible on the screen.
Music: Srikanth Deva scored music for the film. The tunes are not very appealing and were completely on the lines of a routine commercial film. Moreover, there is nothing much novel in the tunes as well. But for a couple of songs, there is nothing much to talk about music. Moreover, the songs scented the Tamil smell and lacked the Telugu nativity.
Action: Action choreography by Stun Siva is worth watching and stylish. However, the climax fight need not be so lavish with three to four blasts and all.
Cinematography: Ram Prasad, who had good experience in cinematography tried to do justice to his profession, by using some colour gradation and tried to show some novelty in the picturisation of songs and action scenes. However, in the wake of poor movement of the story it failed to make an appeal.
Screenplay and direction: Samudra, who gave a hit like 'Yevadaithe Nakenti' in the recent past, failed to continue the same trend in this film. Sorry to say that his direction appeared pathetic. There is no novelty and the entire film looked routine and boring way. Though audiences of 80s and 90s could watch such scenes but not the present generation.
REMARKS: The comedy department too failed to come to the rescue despite the presence of stalwarts like Brahmanandam. The director copied the original as it is without showing any innovation during the remake. As a whole, the film appeared to have targeted only the front benchers.
Cast: Nandamuri Kalyanram, Vedika, Simran, Suman, Saikumar, Rajan P Dev, Brahmanandam, Duvvasi Mohan, Srinivasa Reddy, Suman Setty, Paruchuri Venkateswara Rao, Lakshmipati, Kadambari Kiran, Jayasudha, Kalyani ('Yendamavulu (serial)'-fame), Mounika of 'Radha-Madhu'-fame, Allari Subhashini and others
Credits: Story €" Perarasu, Dialogues €" Paruchuri Brothers, Cinematography €" Ram Prasad, Editing €" Nandamuri Hari, Action €" Stun Siva, Music €" Srikanth Deva, Choreography €" Noble and Ashok Raj, Art €" Nagendra, Producer €" Edara Ranga Rao, Screenplay and direction €" V Samudra
Banner : Sri Sai Sarvajit Movies
Released on : September 21, 2007