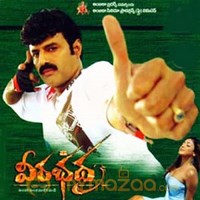 Veera Bhadra Movie Reviews
Veera Bhadra Review
by

MyMazaa.com
---
Story: Rajan P Dev doesn't want his grandson Balakrishna and hands the job of killing him to Raalapalli who leaves hm in the hands of Prakash Raj to raise him.
Being an addict he leaves the entire family responsibilities to the hero. Rajan P Dev's relative Shayaji Shinde eye's his wealth and breaks Rajan's grandaughter's (Balakrishna's sister) leg.
Rajan fearing his life leaves the girl in Balakrishna's care and breathes his last. How Balakrishna saves his sister and vanquishes Shayaji Shinde
forms the crux of the story.
Performances: Balakrishna gives an honestly infectious performance in this film directed by Kumar Chowdhary. He may be a gifted actor but he's been let down in his previous films by some poor scripts. Veerabhadra offers him tremendous scope to perform all the nine emotions with aplomb.
He looks glamorous and the energy he infuses in each scene is evident, thanks to the improvised mannerisms and his trademark dialogue delivery which made his fans go beserk.
Though Tanushree Datta concentrated in her skin work she didn't get much scope to exhibit her acting talent either. Sada has been completely wasted. While Prakash Raj showed none can beat him when it comes to acting, Shayaji Shinde is dicovering the humourous side to him in his villainous role. Raj P Dev is convincing as an actor.
The plot becomes the main asset but the many flashbacks makes the narration a bit confusing. Since the first half is replete with scenes that is dependant on the flashback due for post interval, the second half becomes very pivotal for viewing.
There is lot of twists and up and downs in the film that makes the film gripping. Anjaneya Pushpanand who gave the story for Lorry Driver and Rowdi inspector is back with some engaging stuff.
Ravikumar Chowdhary seems to know the audience's pulse and gives them what they want. However he needed to have taken some care in the climax.
Mani Sarma's music audio sound good on screen rather than on the audio. The output from the rest of the technical department is all very good. The overall analysis is that it might not completely attract the youth and class audience but will definitely fall into a safe zone as it is embellished with the neccessary stuff that caters to the B and C centres.