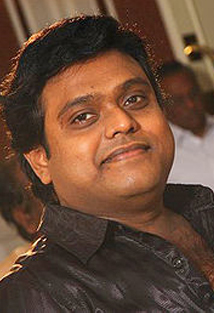 Alias
Hj, Harris
Age
43 years
Height
5'8"
Weight
72.00 Kgs
Occupation
Music Director, Singer
Language Worked in
Hindi, Telugu, Tamil
Spouse

Suma Jayaraj

Children

Karen Nikita

Birth Place
Chennai, Tamil Nadu, India
Eye Color
Black
Hair Color
Black
Education
He studied at Krishnaswamy Matric School, K. K. Nagar.
Marital Status
Married
Parents

S.M. Jayakumar

,

Rachel

Sisters
Favourite Cuisine
South Indian
Favourite Color
Black
City
Champa
Harris Jayaraj was born and brought up in Chennai. He studied at Krishnaswamy Matric School, K. K. Nagar. His father, S. M. Jayakumar, was a noted film guitarist and an assistant to Malayalam music director Shyam and later became a noted musician and film composer. At age six, Harris began his formal training in carnatic music. His father wanted him to become a guitarist and made him learn classical guitar. Harris scored the highest mark in Asia on his 4th grade exam of Trinity College of Music, London.
He started his music career as a guitarist in 1987 at age twelve. After befitting as a guitar player, he started playing keyboard and developed interest over synthesizers. He then started programming with his Roland MC-500 and went on to work as a programmer under more than twenty five music directors in Tamil, Telugu, Hindi and Malayalam, working in more than 600 projects till the year 2000.
He worked under noted composers including Raj-Koti, A. R. Rahman, Mani Sharma, Karthik Raja, Vidyasagar. While working as an additional programmer under Rahman, he composed music for various television commercials including a Coca-Cola commercial featuring actor Vijay. In his early years, he admired music composers M. S. Viswanathan, percussionist Aruljothi Balagopal, A. R. Rahman and Hans Zimmer.
Harris once again ventured into Tollywood with a successful album Sainikudu. The music album of the film was released simultaneously in 10 chosen venues from five different countries. Gautham Menon who considers the music and background score of Harris as a major asset of his films, once again teamed up with Harris on a romantic-thriller Pachaikili Muthucharam. The soundtracks of Pachaikili Muthucharam are appraised as melancholic, lilting, mysterious, and alternatively catchy.
Harris' collaboration with Jeeva continued with Unnale Unnale. The music album oozing with energy all through proved to be a cut above the rest. His next Telugu venture Munna had a good commercial reception, and the song Manasa fetched a Filmfare Best Singer Female award to Sadhana Sargam.
With the following album Bheema, Harris continued his mettle with all the six songs. The track Siru Parvaiyalae used Pashto words in interludes. The album was praised for bringing up visual recapitulation from audio. Harris used a live orchestra of 84 members for the action cop film Sathyam.