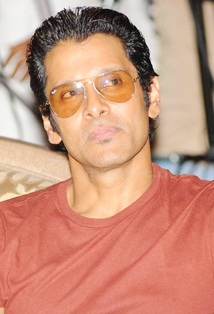 Alias
Chiyan, Vikram Kennedy Vinod Raj
Age
52 years
Height
5'8"
Weight
68.00 Kgs
Occupation
Actor, Singer
Language Worked in
Hindi, Telugu, Tamil, Malayalam
Spouse

Shailaja Balakrishnan

Birth Place
Paramakudi, Tamil Nadu, India
Eye Color
Black
Hair Color
Black
Education
Vikram was educated at Montfort School, Yercaud, a boarding school in a hil
Marital Status
Married
Parents

Vinod Raj

,

Rajeshwari

Brothers

Arvind

Sisters

Anita

Favourite Actors

Anita

Favourite Actresses

Anita

Favourite Cuisine
Indian Cuisine
Favourite Color
Black, White
City
Chennai
Vikram (born as Vikram Kennedy on 17 April 1966) is an Indian film actor who predominantly appears in Tamil language films. During his years in the Indian film industry, he has won six Filmfare Awards South as well as one National Film Award and Tamil Nadu State Film Award amongst other recognitions and was awarded an Honorary Doctorate by People's University of Milan in May 2011.
Vikram is known for his intense performances, with his work often fetching critical acclaim and commercial success. He established himself as one of the leading contemporary actors in the Tamil film industry.
Vikram Vinod Raj was born to a Christian father Vinod Raj and Hindu mother Rajeshwari in Madras, Tamil Nadu on 17 April 1966. He was christened Kennedy as a child. His father, Vinod Raj was a native of Paramakudi and ran away from home to start a career in films. His father however did not fare successfully, and only managed to act in supporting roles in Tamil films and television serials and this inspired Vikram to take part in theatre lessons and become professionally trained in classical and cinema dance forms to ensure he became a leading actor.
Rajeswari, Vikram's mother, was a sub-collector and her brother, Thyagarajan is an established director-actor in the Tamil film industry; with his son, actor Prashanth, being Vikram's first cousin. Vikram has an elder sister, Anita, who is a teacher and an elder brother, Arvind, who was previously set to make his film debut in the 2008 film Saroja but eventually did not feature.
Vikram was educated at Montfort School, Yercaud, a boarding school in a hill station near Salem and graduated in 1983. He has mentioned since that he used his opportunities at school well and learned karate and swimming out of lessons. Despite expressing his interest to join films after school, his father forced him to go through college with Vikram subsequently graduating in English from Loyola College, Chennai and working half way through an MBA programme.
Vikram was knocked down by a truck during a major motorbike accident while in college and suffered a serious leg injury. He remained hospital-ridden bed for three years during college and subsequently went through twenty three surgeries to stop his leg being amputated.
Vikram met his wife, Shailaja Balakrishnan, for the first time when he was in crutches, following three years of being hospital-ridden after his broken leg in the late 1980s. Vikram got married to Shailaja in Guruvayoor in an event which saw dozens of other couples get married at the same time at the same place.
She originates from Thalassery, Kerala and now works as a psychology teacher at a leading Chennai school. Shailaja also worked in the team of Deiva Thirumagal by giving professional advice on how people with special needs are treated and helping develop the characteristics of the character played by Vikram.
Vikram's daughter, Akshita, is nineteen and his son Dhruv is fourteen, with Vikram suggesting that his son is a keen actor. He resides near the beach in Besant Nagar, Chennai and has stated that he would remain based in Chennai regardless of any offers in other regional films.