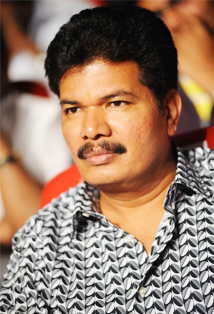 Alias
Shanmugam Shankar
Age
54 years
Height
5'8"
Weight
82.00 Kgs
Occupation
Dialogue, Story, Screenplay, Director
Language Worked in
Hindi, Tamil
Birth Place
Kumbakonam, Tamil Nadu, India
Eye Color
Black
Hair Color
Black
Religion
Hinduism
Education
He completed a Diploma in Mechanical Engineering from Central Polytechnic C
Parents

Shanmugam

,

Muthulakshmi

Favourite Actors

Rajinikanth

Favourite Actresses

Sridevi

Favourite Cuisine
Indian Cuisine
Favourite Color
Red, Black, White
City
Chennai
Shankar's aim was to become a Director. He always used to write stories and became a good performer.
S.Shankar was the Toppest Director in Tamil film industry. Shankar was born in 17th august,1963 at Kumbakonam in Tamilnadu. He was the son of Mr.Shanmugam and Mrs.Muthulakshmi Shanmugam. He Completed Diploma in Engineering. He was married and the father of two daughters.
Director Shankar prominently works as a Director and Producer in tamil film industry. His own production is "S Pictures". He produced the film Mudhalvan(1999),Kaadhal(2004), Veyyil(2006), Imsai arasan 23-m Pulikesi(2006), Kalloori(2007), Arai enn 305-il Kadavul(2008), Eeram(2009), Anandha purathu veeduand Rettaisuzhi(2010). Director Shankar is the only director to direct high budget films over Rs.100 crores as Sivaji(35 crores),Jeans(24 crores),Endiran(75 crores). He produce his films in low budget only. He also remake his film in Hindi. Director Shankar was working in his new film now.He named the film "Nanban" which was acted by Surya,Jeeva,Srikanth,Illeana and Sathyaraj.