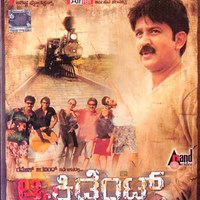 Accident Review
by

MyMazaa.com
---
'Accident' is the name of greatest of all inventors. Quality is never an accident. It is always the result of high intention, sincere effort, intelligent direction and skilful execution. It represents the wise choice of many alternatives.
This explains everything about Ramesh Aravind third directorial venture made by Vishista banner headed by G.Raghunath. The beauty is in the taut screenplay of the film. Fed in excess on the series of suspicions the proceedings make you sit on the edge of the seat of this social thriller. This is a fabulous film to watch indeed. The home work of Ramesh Aravind has in fact paid him rich results. There is no scope for dent in this 'Accident'. One could call it as a picture perfect for the family who are bored with usual ruts in their idiot boxes.
There is no such thing as 'Accident'. It is a fate misnamed for sweet looking chap Sawanth (Ramesh Aravind). His better half for two years Vasudha (Rekha) is a bundle of courage and hell bent on standing against the injustice. Every time every where Vasudha is a hard nut to crack. She is a fighter. One of the important investigations she makes locks her in absolute trouble. The extent and penalty is so high that she is murdered with her friend Bushan (Pathy Iyer). This murder is made to believe as 'Accident'. This is what Sawanth investigates. He goes so close in his investigation but stands far away as the clues lead to something else. Whodunit! It is a workaholic task for him.
This is such a film that does not deserve full explanation of contents in the review. The suspense element should be maintained to keep the viewers interest in tact. In the series of follow ups Sawanth makes it is the technology that finally lands him to find the right clue and his intelligence pays him rich dividend. But surely there is a shock in the end which you would not have imagined.
Ramesh Aravind playing the disenchanted husband losing beautiful wife has been effortless. He is already the darling of middle class audience. In this film 'Accident' as a director and actor he gets full marks. The right locations, team of artists and technicians has further increased the quality of this film.
Rekha has done a fine piece of job. Pooja Gandhi has nothing much to do. Thilak, Rajendra Karanth, Sudharani, Mohan, Longa Mahesh, Balaji are apt for the roles. There is a real freshness in Rajendra Karanth role.
Rickey Key the new man in the Kannada cinema music has not only given lovely tunes but has done a spectacular job in the re-recording. The music brings in the right mood while veteran G.S.Bhasker is peerless. Bhaskerji an institution in himself has lived to the present competent job in his field.
Right from the title card till the last frame it is a Ramesh Aravid film very well supported by Vishista productions. A right producer has caught the right actor and director. This is of course a wonderful choice of you in favorite theatres.
Go watch it without fail.