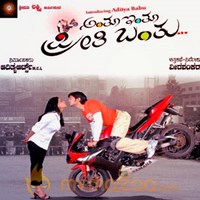 Antu Intu Preethi Bantu Movie Reviews
Antu Intu Preethi Bantu Review
by

MyMazaa.com
---
A passable remake of Telugu film 'Adavari Matalaku Ardhale Verule' bothers in its length. The screenplay and direction of Veerashanker is attractive and the lead pair Aditya Babu and Ramya takes the film to greater heights. In the debut film Aditya Babu proved that he is promising and the dubbing artist Dilipraj has given additional boost to his role.
The software guy Shivu (Aditya Babu) is soft till he sees Preethi (Ramya). His energy mounts up with the charming Preethi and he can even correct the entire office computers that got damaged from his negligence. Preethi is his leader in the software company. In the foreign business trip he saves the grace of Preethi and the utterance of Preethi in inebriated condition gives a feeling to Shivu that she is in love with him. He tries to take the advantage of it in a disco club but that irritates Preethi completely. Preethi without further mincing the time says she is a different kind of girl and asks Shivu to mind his business. Shivu's father interfering in his love is also insulted by Preethi. Both insulted father and son gulp a few pegs but in the morning Shivu is shocked to find that his father is no more.
When Shivu is in complete dejection in his life his friend Harish Raj takes him to his wedding. In the train Shivu catches with his friend is shocked again because his friend fiancé is none other than his lover Preethi. Out of compulsion he goes to his friend's home town. A series of developments in the village earns good name for Shivu and he is liked by everyone. On the previous day of his friend marriage with his lover Preethi dramatic developments takes place. Shivu gets Preethi back when the doubts are cleared in the mind.
The tall build handsome looking Aditya Babu has great future in film career. Ramya is incredible in her role. Lokanath, Srinivasamurthy, Kishori Ballal, Harish Raj able support and the huge family atmosphere gives a very pleasant view to the audience.
Gurukiran has given lovely tunes such as Modhala Sala€¦Mandhara Mandhara€¦.Anthu Inthu Preethi Banthu title songs. Cinematography by H.C.Venu is superb.
Watch this film without fail.
Scoring 7/10
Recommended Reviews
Recent Reviews