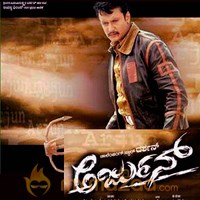 Arjun Review
by

MyMazaa.com
---
What else an action hero like Darshan can do? Some permutation and combination from earlier films, additional tricks, and spine chilling action scenes, good look at the technical aspects, peppy tunes and glorious locations would solve the treatment to the fans. This is what exactly 'Arjun' offers. Compared to 'Gaja' and 'Indhra' of Darshan releases in this year this is lavishly made film and intelligence of a cop is what interests the audience.
'Arjun' who is expert in Kung Fu, Karate and Kick box office €" he gets training from foreign experts and comes back to his home town to receive the post of Assistant commissioner of Police. He is the son of nearly 200 crores worth father played by Ananthnag and mother Urvashi. He has special bondage with his father. His father wants him to be clean in his profession and never bog down to anyone.
The upright cop Arjun gives a different approach by booking the small time criminals on the streets. He gets the route clear to nab the big culprits. His series of slashing attack €" Tell and Then Kill attitude earns him the four important criminals of the state played by Suman, Amit, Ajay and Sharat. All the four are united and deadly.
What the ACP with full powers can do now? He cleverly hatches plots and evaporate one by one to make the city crime free. In the process he loses his fond father. Gets a partner in life and has to use his strength and mind power.
Darshan as cop is spectacular. He has the height, looks and build to suit a perfect cop. He has danced well fought extremely well and emotions have come out neatly. Meera Chopra is a mismatch. Ananthnag as father of Darshan steals every frame he appears on screen. Urvashi rendered good support. The bad guys Suman, Amit, Ajay and Sharat are apt.
Harikrishna understanding the image of Darshan has given right peppy tunes. Four of the five songs are racy and sung well. Cinematography by PKH Das is another cynosure of the film.
A right action film running in the Karnataka theatres!
Scoring 7/10
Recommended Reviews
Recent Reviews