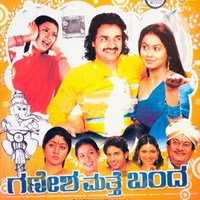 Ganesha Matte Banda Movie Reviews
Ganesha Matte Banda Review
by

MyMazaa.com
---
Off late we rarely get to watch this kind of wholesome family entertainer. Deviating from big screen for six years the expert on 'Ganesha' series in Kannada filmdom Phani Ramachandra has churned out a memorable film with a full package of emotions, comedy, good message, lovely songs and cinematography. Making foray in the small screen Phani Ramachandra has not lost touch on big screen. He has the breezy style, quickly passes his thoughts and studied the requirement of the family audience. Now it is time for those family audiences who are glued to small screen to come to theatres and watch this film. Those who steal with superb performances are Vijaya Raghavendra, Ananthnag, Vinayaprakash, Pragna and Neethu.
Love marriage or arranged marriage is the film 'Ganesha Maththe Bandha' focuses and finally warns the wrong doers that there is a cell that is watching you. The cell here is an imagination of the director and that is in fact an eye opener.
Hailing from Sakleshpur Ganesha (Vijaya Raghavendra) a software guy of an orthodox Madhwa community adheres to his father decision and stays in the house of highly philosophical and divine Padmanabacharya (Ananthnag) after he gets job in Bangalore. The house of Padmanabacharya surrounded by cluster of houses for which he is the owner is unique because the guidelines of owner of the house. In the strict house of Padmanabhacharya his wife Sharada (Vinayaprakash) and first daughter Gayathri (Neethu) are for love marriage and the second daughter Savithri (Pragna) is for arranged marriage as proposed by her father. The third daughter Dharitri is interested in knowing the result of the two and then wants to take a decision.
Gayathri falls in love with bike racer Shanker (Vishal Hegde) and puts before the marriage proposal in the house. Padmanabacharya does not agree to a boy of other caste but the fine nature of Shanker wins his heart. But after love marriage Gayathri is under the impression that she will stay in city and she wants to show it to the world that love marriage is successful. Gayathri good status and success is important for her mother too. On the other side the marriage of Savithri with Ganesha an arranged marriage is not in good tune. That is because of Savithri's old thoughts in leading the family. She is not aware of importance of family life but only glued to looking after her husband very well. Ganesha tries to tame her in all ways but Savithri follows the strict instructions of her father that upsets Ganesha.
When Gayathri is forced to stay in the village because of ill heath of Shanker's father she refuses and walks out. That is hullabaloo in the house. Gayathri goes to the extent of divorcing her husband Shanker and that appears to be very silly for Mrs Padmanabacharya. Gayathri is routed properly as the parents of Shanker come forward to live in an orphan house in Bangalore. Ganesha takes up ideas from his friend to tame his innocent wife and all of them fail. Savithri also comes back to her parent's house. It is a worry for Padmanabacharya now.
How Ganesha and Savithri life come to normalcy? The director uses a trick that is very interesting. In the climax the director suggests that both the cases €" love and arrange marriage is having own difficulties but that has to be overcome by pure understanding.
Vijaya Raghavendra is extremely good in this film. He has a tough role of his career and he gets full marks for rightly understanding his role. Pragna the new find in a chicken hearted role very philosophical teachings from her father Padmanabacharya is sure to attract. Neethu walks away with a breezy performance. Vinayaprkash in the traditional get up of a Madhwa community leaves a strong impression for her fine performance. There is no need to mention about the wonderful caliber of versatile actor Ananthnag. He fits the role completely. As Ganesh's father Ramesh Bhat is convincing. Vishal gives a sweet performance as a bike racer and supporting his parents to the full.
V.Manohar gives variety of tunes and selected good lyrics to meet the situations. There are at least three tunes that are of high quality and foot tapping. Renukumar has handled the camera with expertise.
This is a fine entertainer for the family audience.
Scoring - 8/10