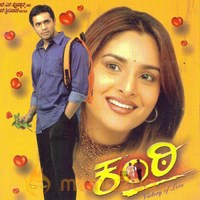 Kanti Review
by

MyMazaa.com
---
Debutant director Bharat has an explosive subject in the love affair between a Kannadiga boy and a Marathi girl in a hostile environment.
The film is shot in Belgaum, which has a mix of Kannada and Marathi-speaking populations and has been at the centre of a fierce border and language dispute. The politicians of Karnataka and Maharashtra are keeping the dispute alive, and Bharat drives this point home forcefully.
The director, however, could have been more careful with the editing in the second half of the film. There are sequences in this half that test the patience of the audience. There are some lengthy dialogues too that could have been avoided.
The first half of the film focuses on comedy, dance and action sequences, which are well shot. The scenes, which portray love blossoming between engineering student Kanti (Murali) and Reema (Ramya) show a sensitive director at work.
The villain of the piece is Reema's brother, a rabid supporter of the Marathi lobby. The romance takes a political turn when Samblekar, a Marathi-speaking politician (Govind Namdev), wants to exploit the situation. Finally, the lovers are united by the support extended by the superintendent of police played by Avinash.
Murali moves a step ahead of his first film "Chandra Chakori" and regales the audience in the action and song sequences. He is also good with his dialogue delivery and carries his role quite effectively.
Ramya looks good and also shows progress in her acting abilities. The director has done a good job with the casting. Even a small character like Beera, played by Kishor, has been etched well.
Bharat will certainly go far, but he should know that the time factor is important for any film. He makes a mark with this film and his future projects will be awaited with interest.
Guru Kiran's music is a plus point, but H.C. Venu's camera work is the most impressive feature of the film.