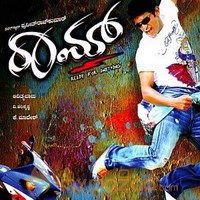 Raam Review
by

MyMazaa.com
---
The year 2009 is very well known for remake movies. At least 50% of the movies are remakes out of 100 plus movies produced in this year. Now, Gaja fame director K Madesh has concluded the year with another remake movie. His latest release Raam is a remake of hit Telugu movie Ready. The movie has made with a tagline 'Ready For Anything'. National award winning actress Priyamani is debuting through this movie.
Powerstar Puneet Rajkumar starrer movie Raam is romantic family entertainer. The highlights of the movie are Puneet-Priyamani's rocking performance, MS Ramesh's witty dialogues, V Harikrishna's music, K Madesh's good script and lively narration and Krishna Kumar's camera work.
Director K Madesh has chosen the same old romantic story and given a comic touch to it. He has included all the commercial elements like action, comedy, sentimental and romantic sequences. But, there is no freshness in the storyline. Hero and heroine fall in love, heroine's parents oppose their affair and hero does some gimmick to get their consent.
Pooja (Priyamani) stays with her rich maternal uncles (Doddanna and Sharath Lohithashwa). Once, Raam (Puneet Rajkumar) saves her from being forcibly married to a guy by her uncles. This incident makes her fall in love with him, but her uncles become obstacle for them. How Raam wins their hearts with his witticism will form the rest of the story.
As Raam, Puneet Rajkumar has delivered an excellent performance. His humourous dialogues, his energy in dance and action scenes impress the audience. Priyamani has proved her mettle in her debut Kannada movie. Doddanna, Sharath Lohithashwa, Rangayan Raghu, Sadhu Kokila and Shrinath have lived up to their roles.
V Harikrishna's music stands as another highlight of the film Raam. His melodious tunes rock the audience. Especially, songs like 'Hosa Gaana Bajanaaa...' and 'Neenendare Nanage Ishta Kano...' have already become popular. Besides him, Krishna Kumar's camera work is also visual treat for viewers.
Despite having Puneet-Priyamani's brilliant performance and V Harikrishna's music, Adithya Babu produced movie Raam might fail to attract the audiences, because the Telugu movie
Ready has already rocked audience not only in Andhra Pradesh, but also in Karnataka. Now the question is whether Raam will drive the viewers to theatres. If movie becomes successful, it is just because of Puneet's crazy fans.