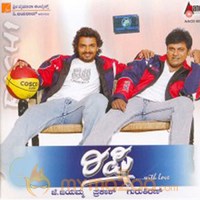 Rishi Review
by

MyMazaa.com
---
Director Prakash has not fallen victim to the 'second film syndrome' - of a filmmaker who shows a lot of promise in his first film but fails to deliver in his second attempt.
"Rishi" follows "Kushi", his first film that created waves in Kannada cinema. He has now marched a step ahead and made another trend-setting film.
"Rishi" has class, a good script, great visuals and good acting performances. You cannot fault even a slice of the film for its average quality. The story is certainly different, and realistic. It is a commercial film with artistic values.
The story revolves around good Samaritan Rishi, who hails from a rich family, shows unusual interest in one of the spoilt brats of a college where he is a trustee. This creates misunderstandings in his own family, but an unperturbed Rishi continues to protect Hari who has also become a drug addict.
There is a mystery to the relationship, which undergoes an unexpected transformation. The nuances of the theme, which find brilliant cinematic narration, are likely to be lost in a summary.
Shivaraj Kumar has given one of his best performances to date as the large-hearted Rishi. Vijaya Raghavendra who has different shades in his role puts in an effort to look genuine in the film. He will be liked by the audience.
The surprise is Mumbai-based model Sindhu Tholani who has come out with a good performance as Rishi's love interest. Radhika is paired with Vijaya Raghavendra, but does not have any worthwhile opportunity to show her talents. All the character artists have played their roles well.
"Rishi" has top class technical values with cameraman Krishna Kumar taking the major honours. Guru Kiran's music compositions have variety. The editing is sharp and the choreography worth appreciation.
"Rishi" is a must for all quality-conscious Kannada filmgoers.