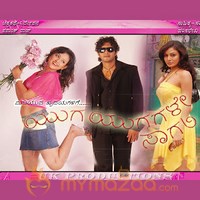 Yuga Yugagale Sagali Movie Reviews
Yuga Yugagale Sagali Review
by

MyMazaa.com
---
This is a love and revenge saga we have seen number of times on silver screen. The debutant director Shashankraj fails to impress with such a wafer thin storyline. He has wasted the money of producer and without proper home work he gives a routine stuff that is not good even in one frame.
Shashi (Yashas) the handsome guy in the college is good in studies and cultural activities. Obviously Swathi (Megha Ghosh) show interest towards this boy. It is nothing but pure love. They get the consent from the respective families but on the engagement day the two families meet sends the lovers shell shocked. The two families are arch rivals but Shashi and Swathi say in what way they are related to old revenge. No marriage says the two respective families. The lovers elope and meet a tragic end at the ego clash of the two families.
Yashas making debut has got a good future. He has the perfect complexion and looks to stay in films. He has to improve in his acting is the only suggestion. Megha Ghosh does not suit to Yashas. There is height difference between the two. However to grow the height in acting Megha has to work hard. Vasanthkumar the producer playing the brother to actress Megha Gosh in the film is irritating. Sharat and Ananthnag have nothing notable to portray.
Hamsalekha disappoints this young team with very average music. Not even one song is worth hearing again. Nageshwara Rao in the department of camera has captured the beauty of nature very well.